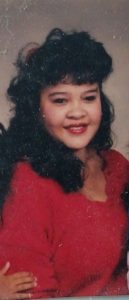 Elisa Ruth Soto, 51, of League City, passed away August 8, 2022, in Galveston.  Elisa was born December 17, 1970, in Galveston to Jose Dolores Soto, Jr. and Annie Herrera Chavez.  She worked for the Port Authority of Houston as a Logistics Clerk.  She will be remembered as a loving daughter, sister, mother, and grandmother.
Elisa was preceded in death by her father.
She leaves behind to cherish her memory her mother; daughters Marissa Moore and husband Herashio, Miranda Ashley Gonzales, and Sonya Gonzales; brothers Joey Soto and his children Siera Soto, Isiah Soto, Devon Soto, and Israel Soto, and Steven Soto, and his children, Adrian Soto, Gabriella Soto, Alejandro Soto, and Andres Soto, grandchildren Alicia Moore, Amani Moore, Aaliyah Moore, Tatiana Morales, Sophia Gonzalez, Carlos Garcia, Azia Saavedra, Laila Gonzales, and Sasha Saavedra; numerous other family members and friends.
In her honor there will be a visitation 4:00 – 7:00 pm, with a Celebration of Life Service at 5:30 pm, Sunday, August 14, 2022, at Crowder Funeral Home Chapel, Dickinson, TX.