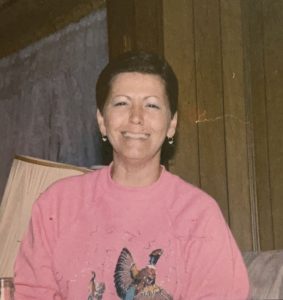 Julianne Starrett, 73, of Bacliff, Texas, passed away on October 3, 2022. Julianne was born on May 27, 1949, in Akron, Ohio to loving parents Floyd Richard Riechard and Annatasia (Coppola) Riechard.
Julianne was preceded in death by her husband, Walten Dewayne Nutter and daughter, Michelle Nutter.
Left to cherish her memories are her daughters, Stacey Starrett, Chanda Nutter and Brianna Starrett; son, Scott Starrett; sisters, Jeannie Rogers and Deborah Posten; grandchildren, Brittany Bull, Shiane Starrett, Devon Tully, Marissa Tully, Brooklyn Martin, Kaylee Mitchell, Julie Mitchell, Chae Niemeyer, Autumn Davis, Ariana Dodds, Alexis Dodds, Mia Starrett, Jaiden Witt, Emily McDonald and Naveah Starrett; great-grandchildren, Julian Polanco, Emery Gonzales, Ainslee Gonzales, Joshua  Hawkins, Levi Wagner, Morgan Nichols and Zosia Mutic as well as many other family members and friends.
Julianne loved her kids, grandchildren and great-grandchildren passionately. Her sister also held a special place in her heart. She loved being outdoors.
Words from a loving granddaughter: "Grandma, you were my best friend, my everything. I will miss you dearly but I know this is where you needed to be.  You are now with grandpa and my mom and for that I am grateful. I will forever cherish every memory I had with you and everything you've ever done for me. You were more than a grandma to me; you were my all in one. You are now at peace but this is not goodbye, this is see ya later, alligator. "
Julianne was a huge fan of the band, Kiss.
Kiss Lyrics:
From "Hotter Than Hell"
"She looked good. She looked hotter than hell. All dressed up in satins and lace. I looked at her and it was just too clear."