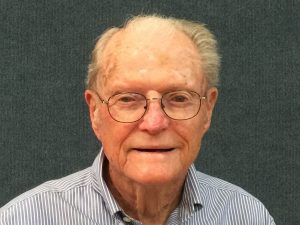 Jasper Lee Fegette, 95, of Dickinson, a longtime resident of Good Springs, TX, peacefully passed away December 11, 2018. Lee was born January 10, 1923, to Claudine Graham Fegette and Jasper Lee Fegette in Gatesville, TX. Lee graduated from Texas City. Being a part of The Greatest Generation, he proudly served his country in the U. S. Army Air Corps for 3-1/2 years in England during World War II. Following his retirement from American Oil as a machinist, he moved to East Texas and farmed his own land. He was a loyal member of the Good Springs United Methodist Church and First United Methodist Church in Dickinson. Lee was preceded in death by his parents, loving wife Helen Elizabeth Hewitt Fegette, a son Randon Lee Fegette, and a sister Pearl Gummelt.
Lee leaves behind to cherish his memory daughters Claudia Jean McCoy and husband Michael, Marcia Louise Henry and husband Cecil, Denice Renee Tucker and husband Rodney, and son Steven Allen Fegette; grandchildren Brad Henry and wife Kelly, Blake Henry and wife Isabela, Jason Pate and wife Terra, Clayton Tucker, Rodney Tucker, and Amber Vera and husband Leo; ten great-grandchildren; and numerous cousins, nieces, nephews, and friends. Lee was raised by Dick and Dean Hunter his senior year in high school. He grew to love this family as much as his own. From this extended family he leaves behind, Dick Hunter, Shirley Hasson and husband Art, Wayne Camp, and Jeanine Gainer along with their extended family.
Lee, Pops, Grandpa, many of the names he was fondly called, was a family man who had great faith in God. He loved gathering all his children, grandchildren, and great-grandchildren at his farm for a weekend of good food, playing dominos, riding four wheelers, and getting everyone to help maintain the farm. He loved woodworking, canning jelly, fishing in his lake, watching football, and beating all his family members at 84. He taught his family what being a family really means, how to be a faithful servant, and how to work hard for what you want to achieve in life. He will be greatly missed by all that knew him, but he is now at peace and reunited with those that have gone before him, especially his soul mate Helen Fegette.
Please join the family in honoring Lee; a Visitation will be held at 10:00 am with a Memorial Service to follow at 11:00 am on Saturday, January 12, 2019, at First United Methodist Church, Dickinson, TX. Reverend Jack Matkin officiating. In lieu of flowers the family asks that you kindly make a donation to the Wounded Warrior Project https://www.woundedwarriorproject.org or Goodsprings UMC Henderson; 8659 County Road 454 S, Henderson, TX 75654-9557 in Jasper Lee Fegette's name.