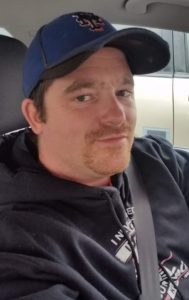 William "Billy" Woods, 36, passed away on October 21, 2016 in Houston, TX. Bill was born Aug 8, 1980 in Brooklyn, NY. Sugarland, TX has been his home for the past 17 years and attended St. Lawrence Catholic Church.
Bill is preceded in death by his mother, Alice Woods and his father, John Woods.
Bill leaves behind his daughter, Sophia Elizabeth Woods; mother of his daughter, Elizabeth Woods; mother, Mureen Woods; brothers: Mark, wife Doris and John Woods, wife Donna, Patrick Woods; sister, Renee Woods, husband, William, Kathleen Woods, Maureen Woods, Eileen Woods; sister in laws: Gloria Amesquita, husband Jorge, Amy Garcia, husband Pedro and Janeth Garcia, husband Osbaldo; nieces: Diamond Figueroa and Victoria Figueroa; nephews: Mark Woods Jr, Victor Antequera, John John Woods and Billy Vokes; uncle, Dennis Woods; mother in law, Gloria Garcia.
As per Mr. Woods request he will be taken home to New York for burial.