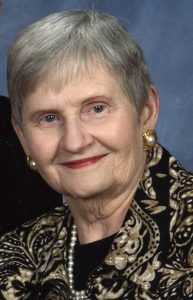 Wacille Marie Sanders, 86, of Dickinson, passed away November 6, 2019 in Texas City. She was born September 15, 1933, to Ira Marie and Elmer George Oeding in La Grange, TX.  Wacille honed her secretarial skills working for Judge Hank Schovajsa after high school.  Wacille later put those talents to work as church secretary for Memorial Lutheran Church in Texas City, where she was a dedicated member for over 60 years.  Afterwards, she worked as an executive secretary at Mainland Bank in Texas City.  In addition, Wacille was involved with other volunteer organizations in Texas City, and later in Dickinson.
Wacille was preceded in death by her parents, brothers-in-law and sisters-in-law, Clinton and Viora Wagner, George and Doris Schaefer, and Helen Mensing, and Great-grandson Oliver Hardt Ladd.
She leaves behind to cherish her memory her beloved husband of 66 years R. H. "Sandy" Sanders; daughter, Lana Clement and husband Wayne; son Scott Sanders and wife Carol; brother Gene Oeding and wife Anna; grandchildren, Angela Ladd and husband Zac, and Jason Clement, Louis Sanders and wife Elletra, and Elizabeth Sanders; great-grandchildren Harper Ladd, McKinley Ladd, Hunter Clement, and twin girls due in March – Orla and Astrid Sanders as well as numerous nieces, nephews, and friends.
The family will be receiving friends from 10:00 – 11:00 am, Saturday, November 9, 2019, with Memorial Services at 11:00 am, at Memorial Lutheran Church, 2021 29th St N, Texas City, TX  77590, with Pastor Wayne Clement officiating.
In lieu of flowers, donations may be made to Memorial Lutheran Church in Texas City or a charity of your choice.