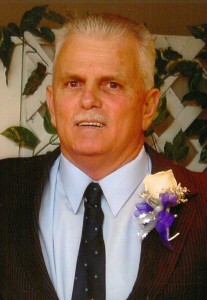 Van "Skip" McComb, Sr. of Texas City, formerly of Galveston, passed away at home December 17, 2014 surrounded by his family. He was born November 30, 1948 to James "Bubba" McComb and Jane Yeatman McComb. He was preceded in death by his parents and two brothers, James "Flattop" McComb and Joseph "Jerry" McComb.
Skip is survived by his beloved wife of 43 years, Paula McComb; daughter Melissa McCoy and husband Mark; son Van "Skip" McComb, Jr.; three grandchildren whom he loved dearly, Shane Parler, Emie McCoy and Brianna McComb-Stewart; nephews James McComb III and Tommy Whitely who were like sons; Jerry McComb, Jr., Mike McComb and niece Chere McComb; sister-in-laws Cheryl Plain and Marian Plain; extended family Randy, Liz, Carlie and Kelsie Plain; as well as a host of other family members and friends.
Skip's favorite past times were golf, fishing, hunting and playing slow pitch softball with his favorite team, Quicksilver. He coached his son's Little League team as well as assisting with his grandson's team many years later. Skip loved his job at Time Warner Cable and his dedication was obvious as he was the only technician who remained on the island during Hurricane Alicia. While on the job, he suffered a severe back injury which not only ended his career but also his ability to participate in the sports he loved so much. However, God had other plans for Skip and he became a loving caregiver. He, and his mother-law Emie Plain, worked together to care for his grandson Shane during the day for the first year of his life. Skip continued to help raise Shane until he began school. Shane was the "light of his life" and they developed a special bond that will never be broken. Skip also took care of his beloved mother-in-law during the last two years of her life.
The family would like to acknowledge the exceptional care Skip received from the staff at A-Med Hospice, especially his nurse Melanie Cuyos. We also extend our gratitude to Bob, Effie, Christie, Kelly, Paula and Suzanne, who cared for him during his final days.
Visitation will be held Friday, December 19, 2014 from 5:00 to 8:00 pm at James Crowder Funeral Home in LaMarque. Services will be on Saturday, December 20, 2014 at 10:00 am at the James Crowder Funeral Home with Pastor Helen Rose Moore from First Lutheran Church officiating. Interment will follow at Galveston Memorial Park Cemetery in Hitchcock. Pallbearers are James McComb III, Mark McCoy, Shane Parler, Randy Plain, Robert Plain and Tommy Whitely.
In lieu of usual remembrances, the family requests donations in Skip's name be made be to First Lutheran Church, 2415 Winnie, Galveston, TX 77550, A-Med Hospice, 8901 Emmett F. Lowry, Texas City, TX 77590 or to a charity of your choice.
Those we love don't go away; they walk beside us every day. Unseen, unheard, but
always near, still loved, still missed and very dear. ~Author Unknown