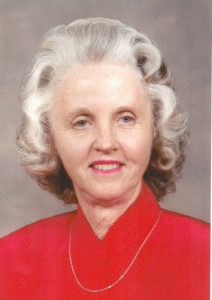 V. Jean Landriault, 89, passed away Wednesday, January 11, 2017. She was born April 22, 1927 in Tacoma, Washington to Walter J. and Eva Schiesz.
Jean was a longtime member of Sommerville Baptist Church where she loved teaching Sunday school. She served on the flower committee arranging flowers for church services.
Grandchildren and great-grandchildren were her greatest joy; with open arms of affection, endless overnight stays and unlimited home cooked meals.
She is preceded in death by her husband Leo Landriault, sister Viola "Vi" Schiesz and brother Verl "Bud" Schiesz.
Jean is survived by her daughter and son-in-law; Debra Jean Gavlik and George; son and daughter-in-law; Steven Landriault and Judy; four grandchildren Leigh, Larry, Christopher and Nicholas and five great grandchildren; Alexander, Michael, Kara, Kelsey and Levi.
Visitation will be on Monday, January 16, 2017 from 10:00am – 11:00am at James Crowder Funeral Home in La Marque. Funeral Service will follow at 11:00am on Monday, January 16, 2017 at the Funeral Home. Burial immediately following at Hayes Grace Memorial Park Cemetery in Hitchcock, Texas.