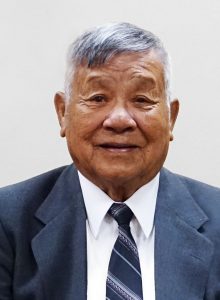 Tran Van Khanh, age 85, of Texas City passed away on Thursday, August 29, 2019 in Texas City, Texas.  He was born on December 25, 1933 and grew up in Nam Dinh, northern Vietnam.  In 1954 at the age of 21, he migrated to southern Vietnam and joined the South Vietnamese Army where he would spend the next 5 years in the formative years of the South.   He eventually settled in Saigon where he would build and operate successful businesses.
In 1982, he immigrated to the United States to join his family, and embraced Texas City as his adopted city for the next 37 years until his passing.  He was a deeply religious and big-hearted man; he lived a simple and quiet life surrounded by friends and loved ones.  He was known for and embraced by his friends, relatives and the community by his abundance of generosity and kindness; he would do anything to help those in need.  His love for the sea eventually led him to becoming a fisherman on the shores of Galveston, where he spent many happy days on his fishing boat, taking in the sea salt air and watching the sunrise over the ocean water. He was a devoted husband, father, and grandfather, finding greatest joy in seeing the happiness and success of his loved ones
He is survived by his loving wife, Le Thi Mai, children from his previous marriage (Sam Nguyen): Steve Tran (Kim) of Tustin, CA, Henry Tran (Quynh Anh) of Pacifica, CA, Michael Tran (Nhu) of Houston, TX, and Kimberly Tran Nguyen (Ben) of Palo Alto, CA, and sixteen grandchildren.
He was preceded in death by his parents, his sister, and his daughter Oanh Tran.
Visitation will be held on Friday, September 6, 2019 from 5pm-7pm at James Crowder Funeral Home, 401 Texas Avenue, La Marque, Texas 77568.  A Catholic mass will follow 7pm-8pm.
The memorial service will be held on Saturday, September 7, 2019 at 9am at St. Mary of the Miraculous Medal Catholic Church in Texas City, 1604 9th Avenue N, Texas City, Texas 77590.  A Catholic service will follow at his final resting place at Mt. Olivet Cemetery, 7801 Gulf Frwy, Dickinson, Texas 77539.
In lieu of other expressions of sympathy, the family would greatly appreciate the donations in his name to the Catholic Diocese of Galveston Diocesan Service Fund (DSF), www.archgh.org/dsf, 1700 San Jacinto, Houston, TX 77002.