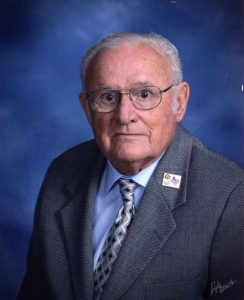 Tony Emanuel Bocco
LEAGUE CITY-Tony Emanuel Bocco passed from this life Saturday, March 9, 2019, in League City, surrounded by his family.
Born August 16, 1923, in Hitchcock, TX, Tony had been a longtime resident of Galveston County. In 1942 Tony enlisted in the U. S Army, he was assigned to the 739th Field Artillery Battalion as a Medium Tank Crewman. He fought in the Battle of the Bulge, during World War II. After returning from the military as a decorated veteran he began his career with TxDOT, retiring after 25 years. He was a member of St. Mary's Catholic Church in League City and a lifetime member of the American Legion Hall #554.
He was preceded in death by his parents Mike Bocco, Sr. and Katie (Galfione) Bocco; brothers, Joe, Mike Jr., Lawrence, Johnny, and Louis Bocco; and longtime friend, Ethel Clay.
Survivors include his daughter, Nadine Hammond, and husband, Bob; son Ronald Bocco and wife, Barbara; grandchildren, Christie Mauldin, James Cargile and wife, Brandie, Brett Bocco, Brandon Bocco and wife, Tiffany, Brailey Bocco, Chase Wilks, Krista Taboada and husband, Angel and 7 great-grandchildren.
A funeral mass will be celebrated at 10:30 a.m. Thursday, March 14, 2019, at St. Mary's Catholic Church in League City. Entombment at Mt. Olivet Catholic Cemetery in Dickinson. Reception at Cargill Hall immediately following funeral mass.
Visitation with the family will be from 6:00 – 7:00 p.m. Wednesday, March 13, 2019, with a rosary beginning at 7:00 p.m. at Crowder Funeral Home in Dickinson.