Thelma Christine (Chris) Hartley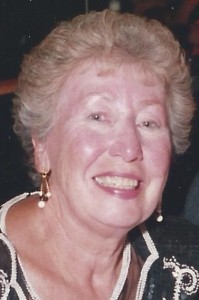 Thelma Christine (Chris) Hartley (89) of Rye, NH passed peacefully into her Savior's Arms and took her first breath in paradise on Monday, March 2, 2015 in League City, TX. She was predeceased in 2004 by her beloved husband Robert (Bob) Hartley, and daughter Mary in 1959. Chris leaves behind her two sisters, Virginia August of Friendswood, TX, and Claudia Heideman of Friendswood, TX, her sons and daughter-in-laws, Peter & Pamela (Gove) Hartley of League City, TX, Paul & Stephanie (Kanavos) Hartley of Rye, NH and Matthew Hartley also of Rye, NH, her beautiful granddaughters, Regan Hartley, Chelsea Hartley, Gwyneth Hartley and Gracynn Hartley, nieces, Alana Fields, Nancy Lord, Patricia Dillon and Zelda Keckler as well as several great nieces and nephews.
Chris was one of the first women proudly serving in active duty for the US Marine Corps as a Staff Sergeant in Germany and Paris during the Korean War from 1952 until 1956. She met and married her husband, Bob in Paris. She was an exemplary clerical employee until her retirement in 1989. She enjoyed spending her winters in Florida and Texas. She was a devoted wife, mother, grandmother and aunt. She was a very generous woman who always kind and loving to everyone she met.
A funeral mass is scheduled to take place at 10:00 am on Tuesday, March 10th at St Mary's Catholic Church, 1612 E. Walker Street, League City, TX 77573. Burial with military honors will take place at a later date in Rye, NH.
In lieu of flowers, especially during this season of lent, the family requests that donations be made in her memory to the charity which was especially dear to Chris's heart; St Jude Children's Research Hospital, PO Box 1000, Dept 142, Memphis, TN 38148.