Ronald "Ron" Spencer Reid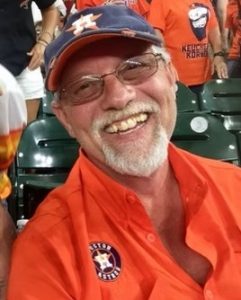 Ronald "Ron" Spencer Reid, 58, a forty-year resident of Dickinson, TX passed on October 11, 2022, in Houston, TX surrounded by his loved ones. Ron was born on December 04, 1963, in Winchester, MA to Winston and Dorothy M. Reid.  Mr. Reid was a proud United States Navy Veteran.
Mr. Reid is preceded in death by his father Winston John Reid, Sr. and his brother Stephen David Reid.
Ron is survived by his wife of 36 years Susan Reid; mother Dorothy M. Reid; step mother Dorothy A. Reid; daughters Valerie Dominy and her husband Shawn, Lauren Reid and Katelyn Reid; sisters Dorothy Mary "Woof Woof" Gilbert, Elizabeth Correia, Karen Marie Oswald and Melissa Hope Hughes and her husband Joseph; brothers Winston John Reid, Jr. and his wife Pamela, Phillip Shawn Reid and his wife Terri and James Clayton Reid; grandchildren Kason William Salinas, Avery May Dominy and Everett Stephen Dominy; along with numerous nieces, nephews, cousins and extended family and friends.
Ronchie was an honorable and memorable man. The impact he had on people in the short time he had on our physical earth is a testament to his heart and legacy. His wife was the center of his world, and they built a foundation of family on love, trust, and honesty. Ron would use far more words than any newspaper would allow, but to sum it up he would say, "from firm roots grow strong branches". Focus on your foundation and let all your extensions reach and grow beyond expectations.
A Memorial Service will be held on October 27, 2022, at 2:30 P.M. at LS Church located at 1407 Victory Lane, Alvin, Texas 77511. Arrangements will be accepted at LS Church. In lieu of arrangements, donations can be made to the American Legion post 291 in San Leon, St. Jude's, or the Pulmonary Fibrosis Foundation.