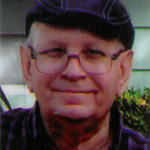 Robert Allen DeVasier,71, of Texas City passed away Wednesday, February 12, 2014 in Webster, Texas. He was born July 3, 1942 in Galveston, Texas to Allen and Jean DeVasier.
Robert worked as a meat cutter for Big Chief in Santa Fe for many years. He and his brother owned a meat market in LaMarque after he retired from Big Chief.
Robert is preceded in death by his father, his wife Jeanette DeVasier, and brother Marcus DeVasier.
Robert is survived by his mother Jean DeVasier of LaMarque daughters, Connie DeVasier Flottmeier and husband Larry of La Cross Wisconsin and Phyllis DeVasier Rash and husband Buddy of Lake Jackson. Brothers Ronald DeVasier and wife Janet and David DeVasier and wife Stephany, Eight Grandchildren and Fifteen Great Grandchildren. Per Robert's request there will be no service.