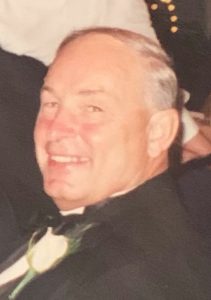 Richard Leon Boucher of League City, Texas passed away on October 1, 2021. He was born in Manchester, N.H. and spent most of his adult years in Limerick, Maine; Southlake and League City, Texas.
To know Richard was to love him, his larger-than-life personality, his infectious laughter, his deep love for his family and friends, and his unwavering faith.
Richard served in the Army from 1967-1970 and then went back to school to earn his degree in industrial technology and later his Master of Business Administration. He worked for GTE/Corning for 24 years. During his years at GTE and Corning, he worked in Standish, Maine; Luquillo, Puerto Rico; Keller, Texas and Reynosa, Mexico, where he was the Plant Manager.
Richard is survived by his wife of 49 years, Barbara, his daughters Leanne and Kara and their spouses Charlie and Doug and his three granddaughters Bree, Ellie and Sarah.
The memorial service will be held on Saturday, October 23, at 10am at Clear Creek Community Church, Clear Lake campus, 16743 Diana Lane Houston, TX 77062
In lieu of flowers please send donations to the American Cancer Society.