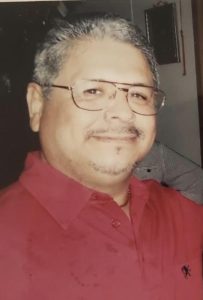 Placido Alvarez, 68, a resident of Pearland, TX formerly a resident of Manvel, TX passed away April 20, 2023.  He was born on October 13, 1954 in West Columbia, TX and was of the Catholic faith.
He is preceded in death by his daughter, Mary Ann Alvarez; father, Pedro Alvarez, Jr.; sisters: Mary Wofford, Diamond Tina Garcia.
Placido leaves behind his ex-wife, Mary Alvarez; daughter, Lori Alvarez; sons: Robert Alvarez and Pete Alvarez, wife Veronica; grandchildren: Druscilla, Amanda, Nicolas, Alyssa, Zavi, and Kenzo; mother, Brigida Alvarez; sisters: Lenora Ojeda, Margaret Rosa Alvarez, Bree Delphin, husband James, and Anita Alvarez, husband Jesse Medina; brothers: Louis Alvarez, wife Carol. Pedro Alvarez III, and Ricardo Alvarez; numerous nieces, nephews and cousins.
Memorial mass will be held Friday, May 5, 2023 at 1:00 p.m. at  Sacred Heart of Jesus Catholic Community, 6502 County Road 48 Manvel, TX. Inurnment to follow at Houston Memorial Gardens, 2426 Cullen Blvd Pearland, TX.