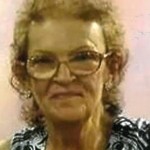 Phyllis L. Cox, 66 of Texas City passed away Tuesday, April 22, 2014 at UTMB in Galveston. She was born October 2, 1947 to John and Bessie Henderson in Fairfield, Texas.
Phyllis was a member of New Life Fellowship Church in Texas City, and was a lifelong resident of Texas City.
She is preceded in death by her parents; husband Ervin Pavelka, sisters Linda Field and Jonnie Hoy. She is survived by her daughter Desiree Galindo and husband David, son Allen Pavelka and wife Kim, brother Davis Henderson and wife Patti, two nieces Frances Field and Cindy Wegner and one nephew Billie Field, four great nieces Savanna Frederick, Darian Shimonek, Shana Simpson and Jennifer Polk, one great nephew Will Field and other loving adopted daughters; Jennifer Kirschner, Ericka Johnson, Christine Watson, Jessica Holbrook, Tracy Smithson and Rachel Worthy.
Visitation will be Sunday, April 27, 2014 from 5:00pm – 8:00pm at the James Crowder Funeral Home in La Marque. Funeral service will be 10:00am on Monday, April 28, 2014 at the funeral home with Pastor R.L. Calhoun officiating. Burial will follow at Galveston Memorial Park in Hitchcock, Texas.
Pallbearers will be Chris Phillips, David Galindo, Davis Henderson, Barry Johnson, Allen Pavelka and Manuel Galindo.
A special thanks to the SICU Team and all of Phyllis' doctors at UTMB for their special care.