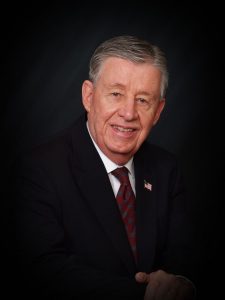 Patrick Andrew Maloney of Friendswood, Texas went home to be with the Lord on March 21, 2021.  He was born on April 22, 1935 in Lackawanna County, Pennsylvania to Francis and Marguerite Maloney of Blakely, Pennsylvania and raised in Newark, New Jersey. He was the oldest of 6 children. After graduating high school at the age of 17, Pat joined the U S Navy and served during the Korean War on the USS Randolph, the USS Intrepid, and the USS Coral Sea.
Upon his Honorable Discharge from the Navy, Pat began an exciting and fulfilling career with Bendix Field Engineering (which later became Allied Signal and then Honeywell).  Pat travelled the world for his employer during the infancy of the space program, working at radar installations and NASA satellite tracking stations in Greenland, Peru, Chile, Ecuador, and Madagascar. While in Chile he met and married Sonia Toro. They had three children: Colleen, Patrick, and Sean.   Upon completing his assignment for NASA, Pat was relocated to Saudi Arabia, contracted to the Saudi Navy Expansion Program. During the ten years he resided there, he met and married Catherine Hureau. They had a daughter, Kathleen.  Pat received the last assignment of his career in 1983, at which time he relocated to Houston and worked as part of the WSTF team. Here he met and married Ronda McGaughey. He retired in 1994 after 37 years with the firm.
Pat is pre-deceased by his mother and father, brothers Francis and Joseph, sister Maureen and grandson, Aaron.  Pat is survived by his wife, Ronda; brothers William and Warren; his children: Colleen (Andrew) Janiw, Patrick (Cacinda) Maloney, Sean Maloney, and Kathleen Maloney; his stepchildren Robert (Melissa) McGaughey, Matthew (Melissa) McGaughey, Amy (J.T.) Proctor; and 10 grandchildren: Alexandra Janiw, Kyrstin (William) Ezzell, Diego Maloney, Tracey Proctor, Peter Janiw, Christian Maloney, William McGaughey, Jonah Proctor, Madison McGaughey, and Nathaniel McGaughey.
Pat loved God, family, country and his many friends. He enjoyed serving at Grace Church, being with friends, working hard and doing a job well, reading, traveling and telling stories about the places he'd been and the people he met.  Pat took great pride and interest in the accomplishments of his family and friends, always inquisitive regarding the circumstances of a milestone and present with a congratulatory comment.  He will be dearly missed by his family and friends.
His memorial service will be on April 23rd,10am, Grace Church, 14505 Gulf Freeway, Houston, Texas. You may join the zoom link at the following link:
https://zoom.us/j/8797897325?pwd=cVNOZWRsZFRES1dMVnpjYkFZU2hlZz09
Meeting ID: 879 789 7325
Passcode: Maloney
In lieu of flowers please consider a contribution to Wounded Warriors Project www.support.woundedwarriorproject.com Star of Hope www.sohmission.org or Grace Church Outreach Fund www.mygrace.com/give