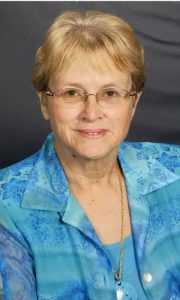 Nancy Joyce Schetat (72) passed away surrounded by family on Monday, February 20, 2023, in Belton, Texas.  She was born on February 25, 1950, in Galveston, Texas.  Nancy was a long-time resident of Texas City, TX for 45 years.  She retired from Texas City Independent School District as a cafeteria manager and cook for 29 years, providing a friendly face, hot meals, and often encouragement to teens as they passed her way. She had a servant's heart, spending most of her life serving others, faithfully in family support groups (Al-Anon) and volunteering other community service.  She provided personal care at times to the sick and spent 12 years training young children in Catholic doctrine.  She loved to cook and anyone who knew her welcomed a sample.  She loved gardening and healthy was her flowers in full bloom.  She knew no stranger and was willing to help anyone in need.  She was a loving wife, mother, sister, and friend.  Nancy was believer in Jesus Christ and now resides with the LORD in heaven.
Nancy preceded in death by her parents- Bo and Billie Crane, Sister- Judy Barrett and Brother-in-law Kenneth Barrett.
Nancy is survived by her husband; Oscar (Pete) Schetat of 57 years, Son; David Schetat and wife Shelley, Daughter; Catherine Boudoin and husband Doug, 4 grandchildren- David Schetat Jr., Micheal Schetat, Christopher (Chris) Boudoin and wife Meghan, Brian Schetat, and 4 great grandchildren; Malea, Brooklyn, Anniston, and Amenadiel (Bubba).
Sisters- Sandra McBryde, Brenda Fussell and husband W.L., Vivian (Jeanie) Majors and husband Jimmy
Brothers- Elbert Crane Jr., James Crane and wife Sherre, Tommy Crane and wife Joy, Ronnie Crane and wife Cari.
Including many nieces, nephews, and extended family.
A visitation and rosary service will be on Sunday, February 26, 2023, from 5pm-8pm at James Crowder Funeral Home 401 Texas Ave La Marque, TX with the funeral service on Monday, February 27, 2023, at 10am.  Interment will follow at Hayes Grace Memorial Park cemetery in Hitchcock, TX.