Mr. Horace "George" Fowler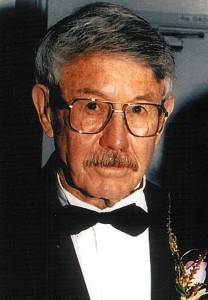 Mr. Horace "George" Fowler, a lifelong resident of Clear Lake, passed away August 7, 2016 at the age of 97. He was born June 16, 1919 in Peru, IN.
George joined the U.S Airforce and flew B-26, B-47 and B52 aircraft. He retired in 1965 as Lt. Colonel with 27 years of service. Following retirement from the Air Force he flew corporate planes until the age of 62.
George was a member of Free Masons and attended Clear Lake Presbyterian Church.
He is preceded in death by his wife, Peggy Jo Fowler and his parent's H.F. and Sadie Fowler and half-sister Catherine Marie Burden.
George leaves behind his daughter, Pamela Fowler Fry, husband Steve; sons: George Michael Fowler, wife, Cathy "Caitlin" and Clay Moreland Fowler; grandchildren: Shane Yeagin,  Charrise L. Fowler, Cassie J. Fowler, Angel Santos, wife Mireya, Charmaine Traffenstedt, husband  Odell and Tara Kerfoot, husband Jerry and numerous great grandchildren.
George Fowler not only loved his country but was a loving husband, father, and grandfather.  He provided wisdom, compassion, support and guidance to his family.  He will dearly be missed.
A visitation will be held on Thursday, August 11, 2016 from 5-8pm at Crowder Funeral Home in Pearland, TX. Funeral service will be Friday, August 12, 2016 at 11:00 am at Clear Lake Presbyterian Church, followed by a burial at Forest Park East Cemetery.