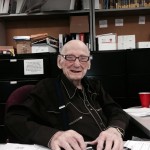 Milton Edelman, 93, of League City, Texas passed away on 4-27-2014. Mr. Edelman was born in Brooklyn, New York in 1920. He grew up in New York City, New Haven, Connecticut and on the Edelman family farm in Parksville, New York. After graduating from New Utrecht High School he attended City College of New York before enlisting in the U.S. Army during World War II. Mr. Edelman was trained as a military intelligence specialist and Russian linguist/interpreter at Fort Richey, Maryland and in the ASTP program at Cornell University. He was part of the U.S. military contingent that linked up with Soviet forces at the 38th parallel in Korea in the fall of 1945.
Upon his return to the United States he married the former Frederica Anne Aubry whom he had met at Cornell. He graduated from Cornell Law School in 1949 whereupon he entered government service working in the General Counsel's office for the Public Health Service and later in the newly constituted Department of Health, Education and Welfare working with and preparing testimony for the Under Secretary of HEW, Nelson Rockefeller.
Subsequently, Mr. Edelman entered the private sector working in New York for several companies before becoming Vice President of Danelectro, a maker of electric guitars and amplifiers during the golden age of Rock n' Roll in the late 1950's and early 1960's. Although the company was closed in the late 1960's by its parent company, MCA, its vintage guitars can still be found on Ebay.
In 1962, Mr. Edelman and his family moved to Fair Haven, New Jersey where for several years he served on the town zoning board.
In 1969, Mr. Edelman returned to the practice of law joining the New York-based law firm Wilson, Elser, Moskowitz, Edelman and Dicker, which has been identified as one of the top 50 law firms in the country by the National Law Journal. He retired from Wilson, Elser in 1998. He and his wife established homes in Shelburne, Vermont and League City, Texas and for many years split their time between the two addresses. While in Vermont, Mr. Edelman once again served tirelessly on the local zoning board for many years. For more than a decade he has worked with his son, Marc Edelman, and daughter-in-law Luanne Edelman at PC and Cable, an information technology services company in League City, Texas.
A cherished member of his large family, Mr. Edelman will be dearly missed forever for his wit, warmth, and sage advice by those who survive him, including his wife, Frederica Edelman of League City, his children, Eric Edelman of Stafford, Virginia, Marc Edelman of League City and Alexandra Hurwitz of Friendswood, Texas as well as eight grandchildren and a great granddaughter.
The Service will be this Friday at 8:30 AM. May the 2nd at Crowder Funeral Home 1645 East Main Street in League City. The internment will follow at Veterans Memorial Cemetery at 10:30 AM.