Mileane Irene Robinson Ohlund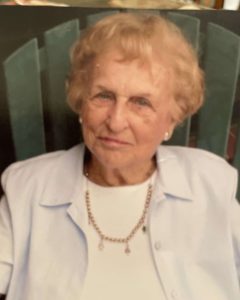 Mileane Irene Ohlund, 96, quietly left us on January 16, 2023 to live in Heaven. She was the keeper of our memories and family history; we will miss her every day. Mileane was a Wife, Mother, Grandmother, Great Grandmother, Sister, Aunt and Friend.
She was born July 18, 1926 in Hitchcock, Texas to Mileane Irene Greb Robinson and Norton Frank Robinson. The eight Robinson kids along with aunts and uncles, cousins and friends lived in the shadow of the Blimp Base out in the country. During WW2, the government restricted the land surrounding the Blimp Base and the Robinsons moved to La Marque for a time. Mileane graduated from La Marque High School.
On January 12, 1946 she married Howard Ohlund at Paul's Union Church. Paul's Union remained the center of their lives for the next 70+ years. Every Sunday morning Mileane could be found in the church nursery rocking those Paul's Union babies. Her "Church Lady" friends were so important to her; they prayed, studied the Bible, arranged Pot Luck dinners and in later years met for lunch.
She was a seamstress extraordinaire, room mother, cookie baker, party planner and chaperone for her daughters' school activities. She was a huge sports fan; Tigers, Cougars, college football and her very favorite Houston Astros. She memorized TV schedules, time and stations, so she could tell anyone who couldn't find the game.
She was welcomed with open arms into Heaven by her parents, Irene and Norton; husband, Howard; brothers, Norton Frank Robinson, Jr. (Florine), Charles Greb Robinson (Velma); sister, Bertha Marie Gibson (J.B.); and the Ohlund Clan.
Mileane is survived by her daughters, Linda McLellan (Bill) and Donna Cucco (Wayne). Her grandchildren, who adored her, and will keep her memory alive with endless stories, Patrick McLellan, Daniel Cucco (Carrie), Greg McLellan (Julie), and Katy Cucco Alvarez (Johnny). She leaves behind six great grandchildren, Kendall and Olivia McLellan, Marlie Pearl and Emmie Mileane Cucco, Holden McLellan and Ava Alvarez. She is also survived by brothers, Mac Robinson, Harry Robinson (Joanne); sisters, Annie Mae (Ford) and Grace Cambiano (Butchie). Huge thank yous and love to the nieces, nephews and siblings that visited and helped care for her. She loved each one of you so very much.
A visitation and funeral service will be held at James Crowder Funeral Home in La Marque on January 24, 2023. The visitation will be from 1:00PM-2:00PM with the service beginning at 2:00PM. Burial will follow at Galveston Memorial Park in Hitchcock.
In lieu of flowers, memorials may be sent to Paul's Union Church in La Marque or to the charity of your choice.