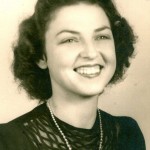 Mary Lee Rivers, 96, a former resident of Friendswood, TX passed away on Tuesday, June 10, 2014. She was born February 7, 1918 in Randolph County, AR to Otis and Annie Casinger.
She attended Milby High School. Mary Lee was a member of Friendswood Methodist Church.
She joins her parents, Otis and Annie Casinger; husband, Woodrow, who passed away in January 2008 after 63 years of marriage; son Michael Rivers; daughter, Marlene Foster; 4 sisters and 2 brothers.
Mary Lee is survived by her children: Mary Lou Stubee and husband John and Pat Rivers and wife Kathy; 11 grandchildren and 17 great grandchildren. Her special friends from Friendswood Methodist Church and Regency Village were much appreciated.
Family will be receiving friends at 3:00 pm on Saturday, June 14, 2014 and the memorial service will begin at 4:00 pm at Crowder Funeral Home in Pearland.
In lieu of flowers, please make memorial contributions to The 100 Club of Houston or to Milby High School Tip Off Club.