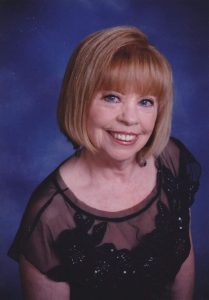 Mary Kay Donovan-Smith,74, resident of Dickinson, Texas passed from this life surrounded by her loving family, October 20, 2021. She was born in Chicago, Illinois on March 22, 1947 to proud and loving parents, Thomas and Mary Ann Donovan.  She was one of thirteen children. Mary Kay grew into a loving and caring wife, mother and grandmother. When she met and married the love of her life, Thomas L. Smith her life was complete. As the family grew, four grandchildren and then three great-grandchildren filled her life with joy.
Mary Kay was preceded in death by her father, sister, Donna Maddix and brother Leonard Donovan.
She leaves behind to cherish her memories, husband Thomas L. Smith; son Darren Donovan; step-son Michael Smith; mother, Mary Ann Donovan;  sisters, Therese Ann Bernier, Irene Cavanaugh, Maureen Laslie, Sharon Johnson, Kathy Vargas, and Colleen Grabenhofer; brothers, Raymond Donovan, Kevin Donovan, Brian Donovan, and Joseph Donovan; four grandchildren, Catherine Ann Fullmer, Stephanie Cole, Thomas Donovan and William Donovan; three great-grandchildren, Malachi Fullmer, Elijah Fullmer and Keira Cole, as well as numerous friends and extended family.
In her honor a visitation will be held, Tuesday, October 26, 2021 from 4:00 to 8: 00 pm with a rosary at 7:00  pm in the Crowder Funeral Home Chapel, Dickinson, Texas. A funeral mass will follow Wednesday, October 27, 2021 at 10:30 am at Shrine of the True Cross Catholic Church. Committal will be on Thursday, October 28, 2021 at 9:00 am at Mt. Olivet Catholic Cemetery, Dickinson, Texas.