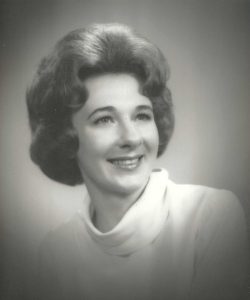 Mary Ellen Wallis passed away at the age of 87 on November 20, 2022 in Denver, Colorado. A dedicated wife and mother, she is survived by her two sons, Shawn Wallis and Todd Wallis along with his wife Karen Wallis. Mary was the third of four siblings.
Born in Kansas on June 21, 1935, Mary spent most of her life in Texas and considered herself a Texan. As a young woman Mary was popular in school and excelled in both sports and academics. High spirited, she was also well known for her propensity for mischief.
As she entered her working career, Mary devoted herself to public service as a principal's assistant in a middle school where she worked for over 30 years. As a truly gifted administrator, she often donated her talents through civic involvement. She preferred to be busy and in addition to working full time, she served as the president of her homeowners association for 10 years.
Mary loved to travel and spent much of the 1960s and 70s living and traveling abroad. Living in both Nigeria and Ethiopia resulted in a collection of lifelong, international friends as well as an endless parade of unique experiences that she loved to recount in her hilarious and enthusiastic way. She never lost her spirit of adventure and even journeyed to Turkey as she neared 80 years old.
She will be remembered as a slight woman of high energy and high impact. A mixture of tiger, bulldog and rattlesnake. She had a sharp mind and a sharp tongue and never refrained from giving an honest opinion.