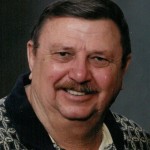 Marvin Lee Valusek, 78, of Hitchcock, passed away Friday, February 7, 2014, in Webster, Texas.
Marvin was born January 21, 1936, in Galveston, Texas, to Fred and Alice Valusek. Marvin was BOI and was raised in Galveston. Marvin served in the United States Army and was stationed in Germany. Marvin worked 38 ½ years for AT&T and was a member of the AT&T Pioneers Organization. He was an honorary member for the Hitchcock Volunteer Fire Department and a past member of the Hitchcock Police Auxiliary. Marvin was a long time member of Paul's Union Church. Marvin loved fishing, hunting and Nascar.
Marvin was preceded in death by his parents, wife Tommye Valusek, and one daughter, Kelly Valusek.
Marvin is survived by his wife Felicia Valusek; two step-sons; Bradley James and Matthew James; good friend Ronnie Meier and numerous cousins.
A visitation will be held from 5:00 p.m. to 8:00 p.m., Tuesday, February 11, 2014, at James Crowder Funeral Home, La Marque. Services will be held at 10:30 a.m., February 12, 2014, at Paul's Union Church. Thank you to all the staff at the Clear Lake Heart Hospital.