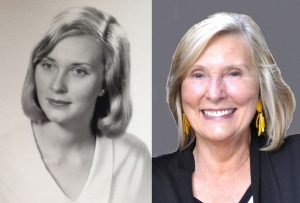 Marie Elizabeth Marlow, beloved wife, mother, grandmother sister and friend, died on February 5, 2017, at the age of 74. Marie, daughter of Albert and Mary Mokal, was born in Mahanoy City, Pennsylvania on March 13, 1942.  Marie graduated from the University of Pittsburgh with a degree in Business Administration.  After graduation, she moved to New York City to work in advertising at Young & Rubicam.  Later, she received a Master's degree in Behavioral Science from University of Houston, which she practiced on her husband and children with modest success.
Family always came first with Marie.  She married Frank Marlow, also of Mahanoy City, on April 7, 1967, a marriage lasting nearly 50 years. After her mother's death, she returned to Mahanoy City to take care of her father, a paralyzed veteran of WWII.  He came to live with Marie and Frank in 1975, and stayed until his death in 1992.
Marie's fierce love of life is not overshadowed by her death.  She enjoyed all things that brought people together. Marie loved to travel and experience new places and she never met a stranger.  She often returned from her adventures with several new and dear friends. Her accomplishments as a chef have expanded waistbands throughout Greater Houston. Her apple pie was legendary, her spaghetti unrivaled.  Her laugh was loud and infectious and her singing was anything but subtle.  "Singing is twice praying," she would often say.  She loved to dance with Frank and, after 50 years of practice, they had honed their art to perfection.
She always thought of everyone else before herself. Upon moving to Beeville, Texas in 1967, Marie became a social worker during Frank's tour as a Naval Flight Instructor.  She continued this work at Galveston's John Sealy Hospital until she became pregnant with her son Drax.  During the seventeen years that she and Frank cared for her father, she was there for him every day, tending to his every need.
Marie had deep bonds with her children, Drax and Meghan.  She was intimately involved in their lives and always there to support them.  Marie and Meghan talked daily about anything and everything.  Known to her grand girls as "Ree Ree", she texted them daily with messages brimming with love and emojis.  She traveled to Austin frequently to spend quality time with Drax and his wife Ashley.  She was so thrilled about their recent marriage.  No holiday was complete without her brother "Uncle Al" who loved to wine and dine the entire family.
She never suffered from a lack of interests. Marie was a devout Catholic, a voracious reader and a lover of theater.  She was a fervent and animated fan of the Texans, the Rockets and the Texas Longhorns.  However, her greatest passion was making a warm, inviting home for her family and friends to enjoy.  She crafted every room into a personal work of art.  During holidays and gatherings, she showered her affection on everyone around her in the form of food, wine and gifts.  For all who knew and loved Marie, she was a vivacious, warm spirit who brought joy to everyone around her.  We will miss her dearly.
Marie is survived and adored by her husband Frank, children Drax and his wife, Ashley Marlow and Meghan and her husband, Grover Geiselman, her brother, Dr. Albert Mokal, and two grandchildren Sloane and Marlow Geiselman.
A visitation will be held Thursday, February 9th from 6-8pm at Crowder Funeral Home, 111 E. Medical Center Blvd in Webster, Texas. A memorial service will be held Friday, February 10th at 10am at St. Mary Catholic Church, 1612 E. Walker St, League City, Texas.