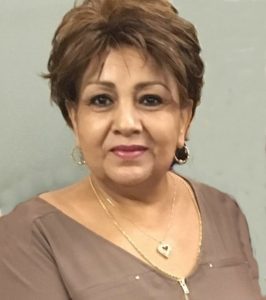 Maricela Tello, 64, of Texas City passed away on Monday, June 12, 2017.
She was born July 8, 1952 in Cotulla, Texas to Jose and Maria Villanueva.
Maricela was a resident of Texas City for 36 years.
She is preceded in death by her parents, her son Gerardo Tello, brother Felipe Villanueva, and sister Rosa Cardona.
Maricela is survived by her husband Juan M. Tello; four daughters: Marisol Tello of Texas City, Norma Tello-Griffin (Deric) of Dickinson, Laura Gracia (Alex) of Texas City, and Jessica Tello-Maxiey (Bobby) of Texas City; son Juan Tello, Jr. (Angela) of Texas City; sister Carmen Cardenas of Channelview; four brothers: Javier Villanueva of Eagle Pass, Francisco Villanueva of Texas City, Antonio Villanueva of Angleton, and Jose Villanueva of Chicago; thirteen grandchildren: Mark Esparza, Justin Aguilar, Lauren Aguilar, Alyssa Gracia, Nikki Gracia, Carlton J. Morgan, Jr., Cameron J. Morgan, Daniel Gracia, Marcelino Herrera Jr., Juan Tello III, Juliana Tello, Ariana Herrera, and Krystal Perez.
A visitation will be on Thursday, June 15, 2016 from 6:00pm – 8:00pm at the James Crowder Funeral Home in La Marque. A Funeral Service will be held at 11:00am on Friday, June 16, 2017 at the funeral home. Burial will follow at Galveston Memorial Park in Hitchcock, Texas.