Mae Dell Margaret Hoelscher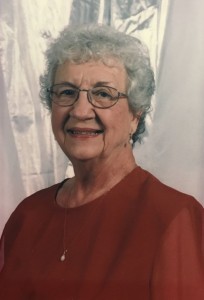 Mae Dell Margaret Hoelscher, 85, a 17 year resident of Pearland, formerly of League City passed away on August 3, 2016. Ms. Hoelscher was born October 7, 1930 in Fayetteville, TX to Edward and Iola Horak. She worked for the City of League City for over 25 years.
Ms. Hoelscher is preceded in death by her parents.
She leaves behind her daughters: Elizabeth Graves, husband, Jason, and Patricia Hoelscher; son, Gregory Hoelscher; brother, Johnnie Horak; sister in law, Leona Hoelscher; grandchildren: Austin Graves, Brendon Bessiere and Bailey Graves; nieces and nephews: Amanda Horak, Anessa Pavlik, Michael Hoelscher, Denise Koenig, Susan Bloodworth and Nancy Parrish.
A visitation will be held from 5-8pm Friday, August 5, 2016 with a rosary at 6pm at Crowder Funeral Home in Pearland. Funeral service will be held at St. Bernadette Catholic Church at 10am Saturday, August 6, 2016.
Graveside service will be Sunday, August 7, 2016 at 12:00 pm St. Michaels Catholic church Cemetery in Weimar, TX.