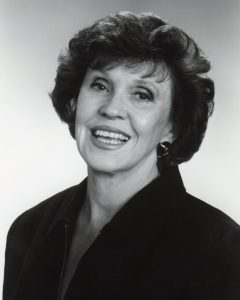 Lyla Nettles, loving wife, mother, grandmother, teacher, mentor and friend, lived a full life and died peacefully on November 5, 2017, surrounded by family. She was the only child of John Lyle and Mary Frances Hamner, and was born in Austin, Texas, on September 1, 1933.  She is survived by her loving husband of 62 years, Barry Nettles, and also by her children:  Larry Nettles and his wife Jenny; Tanya  Heeke and her husband Verl; and Barfield Nettles and his wife Cindy; as well as grandchildren Caroline Nettles Kennedy (Michael), Kim Nettles, Taylor Heeke Meyering (Chris), Morgan Heeke, and Jamie Nettles (Ashley).
Lyla touched more lives and helped more people than almost anyone we know.  She lived by the motto that unless you leave this world in better condition than it was when you were born, life has been wasted.  Lyla fulfilled her goal of making the world a better place, as she helped thousands of people during her 84 years in this world.
Lyla graduated from the University of Texas at Austin, where she met, fell in love with and married Barry, and they both began life-long careers as educators.  She began her career as first and second grade teacher in the tiny community of Tehuacana, Texas.  In 1956 she moved to Baytown, Texas and taught English in the Goose Creek school district for more than 35 years, and she served as chair of the Cedar Bayou English Department for a decade.  She was known for making the study of literature fun and something that you can enjoy for a lifetime, and she received the prestigious School Bell Award in 1984.  After retiring from the classroom, she spent several years teaching home-bound students who were injured or too sick to attend school.
Following her retirement from the Goose Creek schools in 1992, Lyla then moved on to Lee College to teach English and American citizenship to students in Baytown who were seeking a high school graduate equivalency degree (GED). Many of these students were adult immigrants who had children in the Goose Creek schools.  Lyla promised her students that if they obtained their GED and wanted to continue their education, she would pay for them to attend college.  More than a dozen students accepted her offer, and many went on to obtain undergraduate degrees, and a couple of them became teachers too.  In all, Lyla spent more than 50 years teaching, mentoring, motivating, inspiring, and encouraging literally thousands of students.
Lyla was always helping others, and everyone knew that she was a "doer" who was willing to take on almost any project.  After she and Barry moved from Baytown to Clear Lake, she became very involved with the Clear Lake Panhellenic Association, where she served as president and received the Association's Citation Award.  She also took on leadership roles with the Friends of Bay Area Turning Point, Lunar Rendezvous, Bay Oaks Country Club Women's Association, Bay Oaks Community Association, Bay Area Museum Guild, Assistance League of the Bay Area and numerous other organizations and committees.  She was recognized for her many community service activities when she received the "Women of Heart" award from the Friends of Bay Area Turning Point in 2003.
Lyla also was very active in the churches she attended.  When she lived in Baytown, she became the first female deacon at First Presbyterian Church, and she later served as an elder, a Stephens minister, chair of the building committee, and a Sunday school teacher for all ages.  Since moving to Clear Lake she has been similarly active with University Baptist Church, where she was a member of the Alpha Omega Sunday School class.  She enjoyed playing bridge and gardening, spending time with friends, hosting family vacations at the beach, dining with her neighborhood dinner club, and she was an accomplished artist.
Although Lyla has left this world, her legacy lives on in the thousands of lives she touched.  A celebration of her life will be held at the Crowder Funeral Home, 111 E. Medical Center Blvd., in Webster TX (77598), at 11:00 AM on Friday, November 17, with a reception following in an adjacent room.  The family will receive visitors at the funeral home from 5:30 to 7:30 PM in the same location the night before the service.  Donations in honor of Lyla and to continue her legacy in education may be made to the Crawford-Zbanek Scholarship Foundation, P.O. Box 58355, Webster, TX  77598 and designated to the Lyla Nettles Memorial Scholarship Fund; or you may make a donation online through the following web site:  https://www.guidestar.org/profile/76-0320231  and by putting Lyla Nettles Memorial Scholarship Fund in the "make my donation in honor of" box.