Lydia Ann Eisenhauer Biegert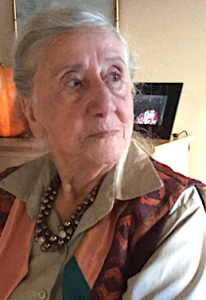 Lydia Ann Eisenhauer Biegert, 93, longtime resident of Dickinson in Galveston County, passed away July 30, 2020, surrounded by her family.  Lydia was born on 15 September 1926, to Lydia Wilhelmina Schulz and Ed F. Eisenhauer on the Bexar County ranch where her family was registered in First Families of Bexar County.
She attended the three-room Kirby Rural School in the 1930s and in the winter of 1933 was promoted from second to third grade. She was UIL (University Interscholastic League) spelling contest first place winner in Bexar County (1939) and UIL Ready Writing contest first place State of Texas in 1940 (award presented in Austin by J. Frank Dobie). She enjoyed baseball, volleyball, basketball, track, choir, theatricals, 4H club, and German Club.  She graduated Brackenridge High School Valedictorian out of a class of 600 in May 1942 and with a scholarship went to University of Texas/Austin.
At the University of Texas, she completed Plan II (especially for English courses) and pre-nursing in two years; classes were held on Saturdays. She was a member of Alpha Lambda Delta honor society and waited tables at Kirby Hall dormitory. Cost of schooling was supplemented by working in the UT Cotton Research program pollinating, picking, and ginning.  She volunteered as a Red Cross Nurse's Aide at Brackenridge Hospital (Austin) and Fort Hood military base (transported to Killeen via army truck).
At John Sealy College of Nursing (now UTMB School of Nursing) she was a member of the US Cadet Nurse Corps and completed a BS in nursing (UT) with a RN license (State of Texas) in 1947. Honors include the Alumnae Association Honor Graduate.  Shortly after graduating from nursing school, she was conscripted as a first responder to the Texas City April 1947 explosion(deadliest industrial disaster in US history).
Before becoming a full-time mother to two rowdy, uncontrollable and taxing children she was a private duty nurse in San Antonio (1947). She became a staff and then a head nurse at Galveston State Psychopathic Hospital and transitioned to the University of Texas School of Nursing, Galveston as a psychiatric nursing instructor.  After her trying time as a mother she returned to teaching as a nursing instructor at Alvin Community College (1972-1989) and earned a Master's Degree in teaching from University of Houston Clear Lake (1977).  She was a member of the national honor society of nursing (Sigma Theta Tau) and a member of the UTMB school of nursing alumni association Hall of Fame (1997).
Born of god-fearing German Volk, Lydia was baptized, confirmed auf Deutsch, and married in Beitel Memorial Lutheran Church in San Antonio.  She enjoyed attending Faith Lutheran Church in Dickinson and was a Sunday school teacher and parish nurse.  She supported her children as a Cub Scout Den Mother, Girl Scout Leader, and PTA president.  She was a German Texan Heritage Society member, Castro Colonies Heritage Associate member, and Volunteer and Board member of Mares Memorial Library.
Lydia has written and contributed to several books and articles involving German-Texas history. Her knowledge of old script German will be sorely missed as she has been a resource for people needing old letters and documents translated.
Lydia was preceded in death by her parents, her beloved husband Erwin Karl Biegert, sister Olivia Eisenhauer and grandson Konrad Louis Kolonko.
She leaves behind to cherish her memory her son Edward Karl Biegert (CathleenTrechter); daughter Lydia Lynn Biegert (Scott Kirkpatrick); sister Rose Marie Eisenhauer Clay (Don); grandchildren Edward Kristopher Biegert, Erik Karl Biegert, and numerous nieces, nephews, cousins and friends.
In her honor a family graveside will be held 9:30 AM, Tuesday, August 11, 2020, at Fort Sam Houston, San Antonio where she will be interred with her husband.
In lieu of flowers, donations can be made to the Eisenhauer Biegert Faculty Award she established at the University of Texas Medical Branch (Galveston) to recognize faculty members who provide an innovative, caring, humanistic approach to nursing education. UTMB asks friends and family members giving memorials to please designate that their memorial is to honor Lydia Eisenhauer Biegert and they ask for the donor's name and address so that UTMB can send them a thank you letter and also provide them with a memorial gift receipt.
Memorials can be mailed to the following address:
UTMB Development Office
301 University Blvd.
Galveston, TX 77555-0148
To give a memorial gift online, on the web page https://innovationsinmind.utmb.edu/give, under the Designation pulldown select "Other" and then enter in 57500637 Eisenhauer Biegert Faculty Award. Or to give a memorial gift via credit card, please contact the UTMB office at 409-772-1991.