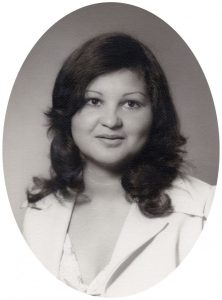 Lucia Delgado of Houston was born March 9, 1954 in Durango, Mexico and passed peacefully at home at the age of 66 on Sunday, December 27, 2020 after bravely battling Creutzfeldt-Jakob Disease. Lucy is preceded in death by her father, Francisco Ortega.
She is survived by her loving husband, Guadalupe Delgado; her sons Robert (daughter-in-law Michelle) Delgado, Steve Delgado and David (son-in-law Kyle) Delgado, and her loving grandchildren; Monique, Dasia, Skyla, Robert Jr., Isabella, and Adrian.
She is also survived by her mother, Maria de la Luz Franco de Ortega and eight siblings: Socorro, Francisco, Jesus, Eliza, Alejandro, Esperanza, Javier, and Juan Carlos. She was a devoted wife, mother and grandmother who will be greatly missed. Her compassion and love for her family will live on forever in our memories.
The family invites you to join them for a socially distanced visitation on Monday, January 4, 2020 from 5pm to 8pm at Crowder Funeral Home located at 2422 E Broadway St in Pearland.
A funeral service will be held on Tuesday, January 5, 2020 at 12pm in the chapel of Crowder Funeral Home, with graveside services following at Woodlawn Cemetery at 2pm.