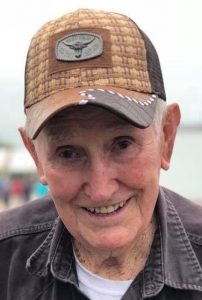 Louis Jefferson Whitaker, 91, of Santa Fe, TX, passed away on January 11, 2021 at HCA Healthcare Mainland. Born April 26, 1929 in Appleby, TX. He was the son of the late Hal and Paula Hartt Whitaker.
Mr. Whitaker served in the United States Army and upon his return to Texas, worked as a heavy equipment operator for Amoco Oil, until his retirement in 1991. He was passionate about horses, cattle, and rodeos. He enjoyed spending time with his grandchildren and great-grandchildren and encouraged them to share these passions with him. He always had a story to share with anyone who would listen.
He was preceded in death by his brother Hal Whitaker, sister, Barbara June Whitaker Oliver, daughter, Karen Whitaker Unger (husband Jimmy Unger) and great-grandson Hunter Lee Butler (son of John and Cindy Butler).
Mr. Whitaker is survived by the love of his life, Mary Margaret (Peggy) Connor Whitaker, that he has been married to for 72 years, his children, Kathy Whitaker Martin, Mike Whitaker, Jay Whitaker, all of Santa Fe, TX and his youngest daughter, Mary Ann Whitaker Jones of Hitchcock, TX. He is also survived by his 7 grandchildren and 12 great-grandchildren, Scott Martin and wife Laura, kids Kara, Ryan, Cole and Bret of Santa Fe, TX. Jimmy Unger and wife Lisa, kids Madison and Kennedy of Lake Jackson, TX. Brent Martin of League City, TX. Cindy Unger Butler and husband John, kids Taylor Butler Delfa and husband Ray (North Port, FL) and Justin of Horseshoe Bay, TX. Julie Unger of Santa Fe, TX. Michelle Whitaker Bland and husband Craig, kids Tyler, Laney, Sydney and Garrett of Santa Fe, TX. Amy Whitaker Boman and husband Ronny, kids Nathan and Carter of Santa Fe, TX.
In his honor, a visitation will be held 5:00 – 7:00 PM, Thursday, January 21, 2021, Crowder Funeral Home Chapel Dickinson, with graveside services 11:00 AM, Friday, January 22, 2021, at Hayes Grace Memorial Park, Hitchcock.