Louis Donald (Donnie) Hollingsworth Jr..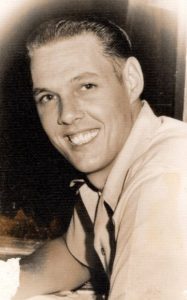 LOUIS DONALD (DONNIE) HOLLINGSWORTH, JR., 75, a devoted family man and Roman Catholic, passed away at his home on June 25, 2020, after a battle with stomach cancer. He was blessed to have his family by his side until the end. He is survived by his loving wife of almost 52 years, Margaret Charlene Tarbett Hollingsworth, his son, Louis Donald Hollingsworth, III, daughter-in-law, Anna Erskin, daughter, Christine Marie Morrison and grandson, Trace Garrett Morrison. He leaves behind a large and loving family that includes 2 brothers, 2 sisters, 6 brothers-in-law, 4 sisters-in-law, numerous nieces, nephews, great nieces and nephews, as well as cousins, aunts and uncles, many of whom were active participants in his life through his final days.
Donnie was born in Galveston to Louis Donald Hollingsworth, Sr. and Bernadine Ethel Herzog Hollingsworth. He grew up on his father's shrimp boat and maintained a love of the water for his entire life; enjoying water skiing and fishing in his younger years. Donnie was loving and affectionate and was always there when a friend or loved one needed a helping hand. He was intensely spiritual, an avid reader and always enjoyed a good game of poker with his high school friends. He served two tours of duty in Vietnam in the Navy SeaBees and retired from the U.S. Treasury Department, Bureau of Alcohol, Tobacco, Firearms and Explosives, as a special investigator.
A visitation will be held on Wednesday, July 1, from 5:00 p.m. to 7:00 p.m. with the Most Holy Rosary at 6:00 pm at Crowder Funeral Home in Dickinson. The Traditional Latin Roman Catholic Requiem High Mass will follow on Thursday, July 2, 10:00 a.m. at Queen of Angels Catholic Church in Dickinson. Internment is at Mt. Olivet Catholic Cemetery immediately following the mass. In lieu of usual remembrances, donations may be made to Queen of Angels Catholic Church.