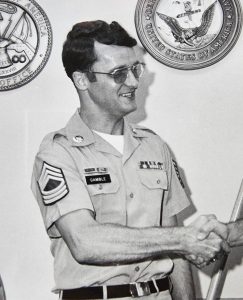 Larry E. Gamble, 82, passed away on October 20, 2023, in Webster, Texas. He was born on July 13, 1941, in Manteno, Illinois to Nuel and Grace Gamble.
Larry is survived by his loving wife of 62 years, Chlothilde Gamble; son, Jack Gamble and his wife Katherine Gamble; brother, Gary Gamble; sisters, Judy Williams and Sherry Schmalz; granddaughter, Sarah Johnston and her husband Luke Johnston; and numerous close family members, work colleagues, and veteran comrades.
When his nation called, he answered by joining the Army from 1959 – 1979. He served two tours in Vietnam and retired from the military service as a Master Sergeant. Larry spent 30 years at Boeing and United Space Alliance in direct collaboration with NASA supporting the Space Shuttle program, and earned a Ph.D. after his military retirement.
Larry had a passion for competition country dancing, loved having the latest Apple products, and was an avid reader. Larry strived to help fellow veterans whenever there was a need. At one point he was a Judge Advocate for a local DAV chapter and was also a member of the American Legion.
On November 8, 2023, at 12:45 pm, a Military Funeral Honors Ceremony will be held at Houston National Cemetery at 10410 Veterans Memorial Drive, Houston, Texas 77038. NOTES FOR THE SERVICE: The Houston National Cemetery has this service starting in LANE #2. Please do not line up any earlier than 12:30 pm. If you arrive early, you may wait in the guest parking area.