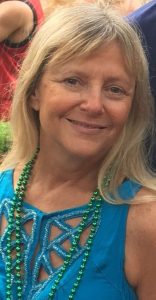 Kellie Jean Jacobs age 58, passed away suddenly, February 13, 2020 in Webster, TX. Although she was a resident of League City, TX for the last 6 years, she was born in Galveston, Texas on March 5th 1961. Kellie was very proud to have been a BOI and truly loved her island.
She is preceded in death by her father, who she loved so much, Roy Applewhite. She was also preceded in death by her grandmother, Naomi Knotts.
She was preceded in death by her Aunt, Jeanine Miller and Uncle, Danny Knotts. Many friends have gone before her. We are positive that family and friends were awaiting her arrival and welcomed her into Heaven.
She is survived by her Mom, Judy Kenney; Husband Allen (Steve) Jacobs; Daughter, Amber N. Filidei and Husband Christopher Nance; Son's Logan Nance and Dylan Puccetti; Stepson, Allen S. Jacobs Jr. and wife Shana; Daughter Ally Jacobs; Brother, Bryan Applewhite and Wife Lisa; son Bryan Applewhite Jr. and wife Cathy; Son's Bruce and Benjamin Applewhite. She is also survived by her Aunt's, many cousins and very good friends.
Kellie felt her greatest accomplishment was being the first in our family to graduate with a degree from college. But her greatest gift in life was her Grandchildren, whom she loved unconditionally! She held the title of MeMaw with high regards. Dylan, Logan and Ally were loved fiercely by their MeMaw. A few things that Kellie enjoyed doing were boating, attending Mardi Gras, going to the beach, attending barbeque cook offs with her family and friends, getting her nails done religiously, watching the Golden Girls, Andy Griffith and I Love Lucy. The best way you can honor Kellie is to cherish all of the good times you had with her; she would want to be remembered that way. She would love a smile across your face as you remember her.
Our family would like to thank everyone who sent their Prayers and Thoughts, our way. We would also like to thank the family and close friends who immediately came to the hospital to be with us during such a difficult time. You all know who you are. You will hold a special place in our hearts forever.
We will have a Celebration for Kellie (Her Way…!) For Family and Friends at a later date.
Arrangements are under the direction of Crowder Funeral Home in Dickinson, Texas.
I'm Free
''Don't grieve for me, for now I'm free
I'm following the path God laid for me.
I took his hand when I heard him call;
I turned my back and left it all.
I could not stay another day.
To laugh, to love, to work and play.
Tasks left undone must stay that way;
I found that place at the close of day.
If my parting has left a void,
Then fill it with remembered joy.
A friendship shared a laugh, a kiss;
Ah yes, these things too I shall miss.
Be not burdened with times of sorrow
I wish you the sunshine of tomorrow;
My life's been full, I savored much;
Good friends, good times, a loved one's touch.
Perhaps my time seems all too brief;
Don't lengthen it now with undue grief.
Lift up your heart and share with me,
God wanted me now,
He set me free.