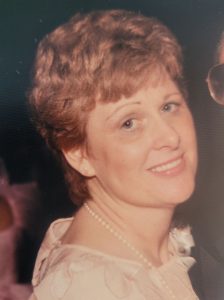 Kathleen Marx-Sharp (1940-2023) – librarian, attorney-at-law, and most of all our mother, passed away in League City, Texas on October 31, 2023. She was 83 years old.
Kathleen was born in Pottsville, PA on July 5, 1940, to Oscar and Loretta Marx. She attended
high school at St. Mary's Academy in Austin, Texas graduating as salutatorian in 1958. She earned her B. A. and Master of Liberian Science at the University of Texas at Austin.
While attending the UT she met the love of her life, John Erbin Sharp. They were married more
than 55 years and had four children – Lance David Sharp, Theresa Sharp Helget, John Vincent Sharp and Moira Sharp Cahill. She had an amazing list of residences and experiences. Up to high school her father took the family throughout America where he managed many hotels. After they married, John was in the military, so Kathleen and the kids added destinations to this ever growing list. Their ultimate destination was League City, Texas.
While most of her children were in college, Kathleen contemplated changing her career to the
practice of law. Unbeknownst to Kathleen, John signed her up for the entrance exam for admittance to law school and shortly thereafter she enrolled at the University of Houston Law School's part-time evening program while she worked as a librarian at Santa Fe High School. She graduated and was admitted to Texas Bar in November 1987.
Kathleen became a prosecutor. She spent more than 22 years at the Galveston County District
Attorney's office. Her career included trying misdeamnor and felony cases, and presenting cases to Galveston grand jury panels. She obtained a Texas Board Certification in Criminal Law.
Her true passion was her family and her relationship with God. She was a devoted Catholic
and shared this passion with her family. Kathleen is survived by her sisters, children, their spouses, grandchildren, and great-grandchildren.
The funeral services will be at 9:00 a.m. on November 11, 2023, at St. Mary of the Expectation Catholic Church located at 1612 E Walker St, League City, TX 77573. Following the funeral service she will be interred at Mt. Olivet Catholic Cemetery.