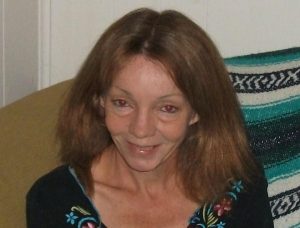 Karen Marie Eitson was born on February 1, 1958 in Houston, TX and passed away just one month after her 59th birthday on March 2, 2017. Karen has been a resident of Santa Fe since 1995 and was of Baptist faith.
Karen is preceded in death by her mother, Margaret Richards.
Karen is survived by her daughter, Allison Kelly and husband Patrick, sons: Keith Dennis and his wife Rachel, Shane Dennis, and Johnny Bruce and his wife Recca; thirteen grandchildren; her father Raymond Taylor and his wife Cynthia; sisters: Sandra Bacon and her husband Edward, Ginger Flores and her husband Tommy, Holli Johnson and her husband Gary, Tamra Crowder, and brother Ross Taylor.
Karen was a devoted Mother and wife. She was kind hearted, generous, and full of love. She enjoyed music, dancing, fishing, and going to garage sales.
Memorial service will be held at 2pm on Friday, March 2, 2018 at Crowder Funeral Home, 851 FM 517, Dickinson, TX 77539.
In lieu of flowers please send memorial contributions to Shrines Burns Institution, 1112 Harborside Dr., Galveston, TX 77550.