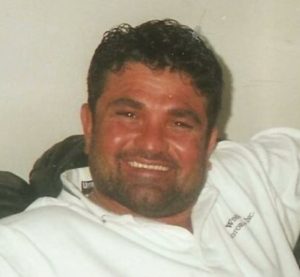 Joseph Roy Scanlin, 56, passed away on December 9, 2017 in Webster, Texas. Joe was born in Houston, Texas on September 4, 1961, and is preceded in death by his parents, Anthony and Sandra Scanlin, Grandmother, Grace Lefley, and brother Chris Scanlin. Joe attended Dobie High School and was a long time resident of Sagemont. He worked in the movie industry as a key grip and lighting technician in California for many years. Joe was a lifelong fan of Elvis Presley and john Wayne, and was a natural at impersonating them.
He is survived by his siblings: Camille, Anthony Jr., Robin, Sandy (Mike), Mary (Fernando), John (Lisa), Dino, David (Marie), and Catherine. He is also survived by nieces and nephews Laura, Kim (Jason), Bobby (Sally), Jennifer, Grace, Nicholas, Joshua, Christopher, Joseph, Meloni, Scotty, Kaylee, Korey, Vince, Dominic, Nicole and Desi. Great nieces and nephews Avalon, Aidan, Ella, Caleb, Sophia, Alyssa, Michelle, Anthony, Corbin, Olivia, Brody, Haylen and many extended family members and friends.
Joe was loved and will truly be missed by everyone that he touched.
Services will be held on Saturday, December 16, 2017 at 2:00pm at Crowder Funeral Home, 111 E. Medical Center Blvd., Webster, Texas 77598.
In lieu of flowers and plants, donations may be made in Joe's name to American Heart Association. (www.heart.org)