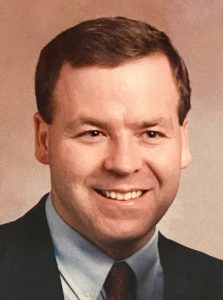 Joseph Andrew Hughes, 62, passed away on Sunday, October 24th, 2021, in League City, TX.
Born on September 7th, 1959, in Cleveland, Ohio, to Charles and Jane Hughes.
Joseph enjoyed reading, studying theology, and spending time with his family. He received a Bachelor of Arts in English from Illinois State University. Later on, he received a degree in Paralegal Studies, which led him to work at the Federal Office of Public Defenders in Houston, Texas. Joseph dedicated his life to serving his community by becoming a member of the prayer ministry of his local church. He was a wonderful husband and father to his wife and five children.
Preceded in death by his parents, Charles William Hughes and Jane Mayo Hughes.
Survived by his wife, Grace Valor Hughes, his children, Nehemiah Christopher Hughes and his wife Alana Hughes, Nathaneal John Hughes and his wife Kimberly Hughes, Glory Joy Hughes, Robert Delyte Hughes, and Mercy Havilah Hughes, and by his granddaughter, Eden-Rose Hughes. Also by his siblings, Suzanne Hughes Rydel, Constance Brady, Frederick Hughes, Mary Hughes Jones, Nancy Hughes Wallace, Daniel Hughes, Mark Hughes, and Judith Hughes Cantrill. And by his close friend, Freddie Borders.
Celebration of Life service will be held virtually on Friday, October 29th, 2021, at 1 pm. The service can be streamed on His Touch Worship Center's Facebook Page at https://www.facebook.com/HisTouchWC.
In remembrance of Joseph's life, the family asks that charitable donations be made to His Touch Worship Center's Building Fund at http://histouch.net/give in lieu of flowers.