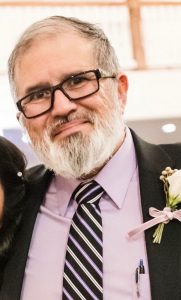 On Saturday August 8, 2020, John Lopez, loving husband and father of three, passed away at the age of 62. John was born on September 29, 1957 in Houston, TX. He was raised by his wonderful parents Marcus and Henrietta Lopez. On March 11, 1989, he married Krissa Ayn Wilde. Together they raised two beautiful daughters, Kessa and Keelan.
As a UPS driver and later a manager at many Kroger stores across the Houston area, John was known for making friends and bringing joy to all those who worked with him. He was passionate about music, especially songs from the 60s and 70s and could name almost any song from that era after hearing just a few words or notes. He enjoyed watching Astros, Texans, and Rockets games – it didn't matter what time of day you came over sports were always on TV.
John was preceded in death by his parents Marcus and Henrietta, and his sister Linda. He is survived by his wife Krissa, daughter Kessa and husband David, daughter Keelan and husband Trey, son John-Paul, sister Mary, and numerous cousins, nieces, and nephews.