John "Jack" Gerard Boyle, Jr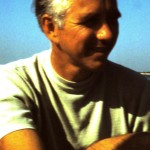 Jack passed away peacefully on March 23rd after suffering a stroke on March 12th. Born in Everett, Massachusetts, Jack moved to Houston in 1934 with his family. He attended St. Christopher's Catholic School, St. Thomas High School and University of Houston. He worked for Sears Roebuck in college before starting a successful career with Merrill Lynch as a stock and commodities broker. Jack retired from Merrill Lynch in 1982. His passion was sailing and shrimping on Galveston Bay with family and friends. In retirement, he enjoyed spending time with family and keeping current with the financial markets.
Jack is preceded in death by his parents John G. Boyle, Sr. and Madeleine Pryhoda Boyle, brother Kerry Boyle, sister Alice Shepard and granddaughter Katya Boyle. Jack is survived by his wife, Gloria Grunwald Boyle and children Dan and wife Pam, Nancy and husband Teddy Carley and Ed and wife Celia. Grandchildren: Justin, Leslie, Masha, Spencer, Maggie, Julianna and William. Great granddaughters: Brooklyn and Penny. Brother, Charles and wife Dorothy and sisters, Pat Cramer and Star O'Conner.
He will be remembered at a mass at St. Clair of Assisi on March 27th at 10:00 a.m.
The church is located at 3131 El Dorado Blvd., Houston, Texas 77059. A reception in the parish hall will follow the mass.
In lieu of flowers, a memorial may be sent to St. Thomas High School, 4500 Memorial Drive, Houston, Texas 77007.