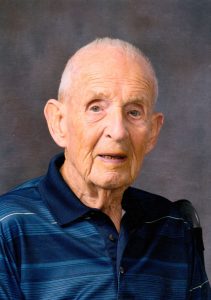 John Cross, 99, of Dickinson, Texas, passed away February 18, 2023. He was born on December 22, 1923, in Golborne, England to parents Thomas Cross and Alice McGrail Cross.
He left school at 14, which was common at that time for those not slated to attend university. His father enrolled him in a 7-year carpentry apprenticeship at the Vulcan Foundry, England's largest locomotive manufacturer at the time. He became a true craftsman, building wooden interiors for the foundry's locomotives, many of which were put into service in India or the Far East. One of the models he worked on was featured in the movie Gandhi. Another is on exhibit at the National Railway Museum in York, England.
During WWII he joined the British Army's Royal Artillery, where he was a surveyor. Surveyors pinpointed enemy positions, providing coordinates to the Artillery. Because of this, surveyors were part of the British Army's spy corps.
He met Mary, the love of his life, while on a weekend pass from the army. They met at a seaside resort called Blackpool, dancing to his beloved Big Band music. At first, they wrote letters to each other. After his discharge, John would ride his bicycle 50 miles across Lancashire and Yorkshire to court her. He had a quick, dry wit and loved being the center of attention. He would sometimes scandalize Mary by pulling up his pant legs in the middle of the dance floor to show off a pair of bright yellow socks (colorful socks were very "not done" at the time!)
He attended night classes, and in 1949 was awarded a Higher Nationals Certificate in Building by Stockport College. He continued his education and in 1951 earned a Full Technological Certificate in Carpentry and Joinery from the City & Guilds of London Institute.
He and Mary married in 1950. In 1952, they decided to follow John's sister Agnes, a WWII war bride, to America. Mary said it was a good thing John had joined the army and not the Royal Navy: he was seasick for over half the boat trip from Liverpool to New York. They made their way to Pennsylvania and settled in Pittsburgh to be near Agnes and her husband Jim. There they built a home, a life, and a family.
John became a US citizen as soon as he could, though retained a lifelong fondness for the Queen. He liked to joke that they entered the army at about the same time, but for some reason she managed to get out before he did.
He first made a living in the US as a framing carpenter, then as a trim carpenter, and finally as a home builder. Looking for something to do after retirement he went back to his roots, doing detailed carpentry projects for a local interior design firm.
He and Mary made many lifelong friends among a group of British Expats in Pittsburgh. The group and their children became surrogate family, sharing their holidays, culture, and food traditions together. For many years they gathered at a local church for a monthly dance. John and Mary continued ballroom dancing with the group, and then on their own, until they moved to Texas in 2005 to live with their daughter.
John enjoyed living in Texas. When asked if he'd ever want to move home, he said "you couldn't blast me out of here with dynamite."
He was a wonderful dad and a kind soul who liked being of service to others. He was a member of several local senior centers and prepared lunch trays for seniors of any age who needed help. He was an avid reader, a masterful storyteller, spoke French, liked camping and travel, and could MacGyver almost anything out of wood. He loved soaking in the sun, and watching the dolphins play at the end of the Texas City dike. He was a proud supporter of his daughter's 50-year bagpiping habit.
John was preceded in death by his wife, Mary Cross; his sister, Agnes Nolen; and brother-in-law, Jim Nolen.
His memory is cherished by his incredibly grateful daughter, Kathryn Shuler; her partner, Jim Rosengren;  and many nieces and nephews – related by blood or by choice – in Pittsburgh, Illinois, South Carolina, and England.
The family would like to thank the wonderful Gina Comeaux, whose care allowed him to spend three years at home that otherwise wouldn't have been possible. He thought of her like a granddaughter.
They would also like to thank the amazing staff at Serenity Gardens Dickinson, who kept him safe, happy, loved, and engaged during the last 6 months of his life.