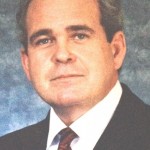 Joe Sam Wilkins – "Sammy" to those closest and . . . to those not familiar with the area, BOI – born on the island of Galveston.
Joe was a good ol' boy if ever there was one . . . in the best sense of the term – always there if you needed a hand, ready to help or to [lend/give] time, a friend to everyone and a foe to those that crossed him with no middle ground – just black or white. As he would say, "I can be your best friend or your worst enemy, just don't cross me." He was never the teacher's pet or valedictorian – Sammy was a badass from all reports. As a child, he tormented his parents with snakes, alligators, and other reptiles that he brought home from the nearby creeks. Then in his teenage years, his hobbies changed to racing cars, chasing girls, and kicking ass.
Since his temper was hot, and he frequently introduced foes to contact therapy, he decided to use his brawn and courage to protect our country. In 1968, at the age of 19, Joe enlisted in the Army stationed at Fort Bliss Texas and served 3 years doing what he loved….playing baseball. He was noticed by a scout for the Boston Red Sox and spent a short time in their pitching rotation. But this Texas boy was not a good fit in the North, so he moved back south to Texas to attend college. He studied chemistry at Rice University, and followed school with a successful career as a real estate mogul, then married and had two beautiful children – Michelle and Kimberly. He was a great Dad and his kids adored him. Kimberly idolized him and followed him like a shadow – a real Daddy's Girl.
Joe continued on with his real estate success until the early '80's when the housing bubble burst and he was reduced to eating rice and beans, as many in South Texas did then, this crisis ultimately ending his marriage. But being the resourceful entrepreneur that he was, business picked up again with the advent of his new and ultimately very successful business – Wilkins Research. Along with this new victory, Joe found love in a woman who shared many of the same interests, Judy. Joe lovingly referred to Judy as his rock and foundation and would have celebrated 16 years of marriage this August.
He had a strong love and passion for Judy, but he also had a lust for business. With 12 domestic patents (some pending) and 5 international, three registered trademarks, and 8 businesses, his drive and endurance were the vehicles he used to achieve different ends with his ever creative mind. These diverse business interests continued with spectacular good luck, or in Joe's words, because he was a genius.
Joe continued his successful businesses in Galveston until he and Judy found a fixer-upper in Whitehall Texas. With a lot of hard work, they transformed it into a lovely country home which they enjoyed like it was their own personal resort. A few years ago, he battled larynx cancer and won because that is the kind of guy Joe was. No matter what the obstacle, failure was never an option. His and Judy's greatest joy was sharing their home with family and friends, especially with their granddaughters Kaylee and Karissa.
We have all been blessed with having Joe in our lives as long as we did. He'll be missed. He touched so many people's lives and we should cherish the memories of our time with Joe. If anyone would like, please come to the podium to share your memory of Joe.
Memorial Services will be held in two locations: Monday, June 16, 2014 at 2:00 pm at the Lindley-Robinson-Holt Funeral Home, 815 S La Salle St., Navasota, TX 77868 and Tuesday, June 17, 2014 at 3:00 pm at Crowder Funeral Home, 2422 Broadway St., Pearland, TX 77581.
In lieu of flowers, please send donations to Shriner's Hospital for Children in Galveston.