Jessie Murphree McKinney Lloyd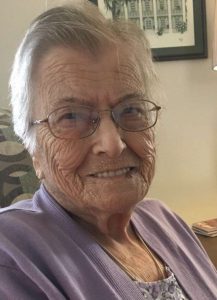 Jessie Murphree McKinney Lloyd age 93 has gone to be with her Heavenly Father and friends on Monday, August 10, 2020.  She was born August 26, 1926 in Calhoun County, Mississippi to Rosie and Bud Murphree.
She lived with her husband Willie Lee Lloyd for 35 years and worked at the Wiener News Co. for 25 years.  She enjoyed Collegeview Baptist Church and playing games with her friends.
She is one of eight children, has two children of her own, Jimmy McKinney and wife Beverly, and Glenda McKinney; her lifelong friends Nancy Davis and Melinda Duroux, special niece Doylene Higgins and too many nieces and nephews to mention.  She has three grandsons, two granddaughters, twelve great grandchildren and one great-great grandchild.
Jessie will be sadly missed by all that knew her.
A visitation will be on Wednesday, August 12, 2020 from 5:00pm-8:00pm at the Crowder Funeral Home in La Marque.  Funeral service will be at 10:00am on Thursday, August 13, 2020 at the Crowder Funeral Home with interment to follow at Hayes Grace Memorial Park in Hitchcock, Texas.
Pallbearers will be Matthew McKinney, Jeromie Slaughter, Kirk McKinney, Kevin Deubner, Gage Slaughter and Keith Kennedy.  Serving as Honorary Pallbearers will be Andrew Slaughter and Reese McKinney.