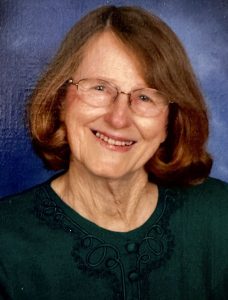 Jeanette Louise Blazek, 83, of Santa Fe, Texas passed away on Tuesday, January 24, 2023. She is at peace with her Heavenly Father. Jeanette was born on November 18, 1939 in Moulton, Texas to parents William V. and Lillie Alice (Chudej) Migl.
Jeanette was preceded in death by her Parents; Husband, John Frank Blazek; Brothers, Willie Joe Migl and Leroy Migl.
She leaves behind to cherish her memory, Daughters, Sharon Ryan (Jeff), Lillian Prejean (Mike), and Lisa Ramsey (Todd); Son, John David Blazek; Grandchildren, Danielle Moore, Joshua Blazek (Mayra) and Gabriela Blazek; Sisters, Dorothy Locke, Grace Smith, and Lorraine Zinke; And many other cherished family members and friends.
Jeanette was a woman of deep faith and a longtime member of Our Lady of Lourdes Catholic Church. She was deeply committed to Catholic faith and service. She was a devoted servant to God and His community, serving as an active member of the Lay Carmelite Order and volunteering in the Adoration Chapel each week. In her life, she also served as a Eucharistic Minister, lay reader, and instructed youth and adult studies. She served as a role model to her family and community for her devotion and commitment to her church and continued Christian service.
Jeanette had a wonderful passion for gardening, growing flowers, and working in her yard. She loved birds, especially hummingbirds, cardinals, and bluebirds. She enjoyed traveling throughout Europe to Italy, France, Germany, and Ireland. Her visits to Alaska, Hawaii, Florida, California, Washington state, and Georgia were also highlights. She loved entertaining and having the family gathered together for all holidays and special occasions. She especially enjoyed hosting Easter egg hunts each spring for us all, children and adults. And she adored her beloved Pomeranian, Buddy.
Jeanette was a devoted wife, beloved mother, grandmother, sister, aunt and friend. She always prayed for her family, friends, loved ones, community, and country. Her love and devotion to us all will live in our hearts forever. She will be greatly missed and never forgotten.
1 Peter 5:10
And the God of all grace who called you to His eternal glory in Christ, after you have suffered a little while, will Himself restore, confirm, strengthen, and establish you.
In her honor, there will be a rosary on Friday, February 3, 2023 at 9:30am at St. Mary's Church-Praha in Flatonia Texas with a funeral mass to follow at 10:00am. Internment will follow at St. Mary's Catholic Cemetery.