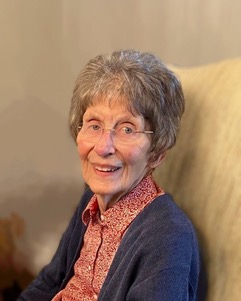 League City, Texas – Janet Winquest Cook, 87, wife, mother, grandmother, great-grandmother, friend to all, and long-time resident of Dickinson, Texas, died peacefully on May 31, 2023.  Born on February 16, 1936, in Holdrege, Nebraska, she was one of three children born to Bernard and Esther Winquest.   Married to William "Bob" Cook in 1956 (married for 48 years until his death), Jan raised three accomplished men, Robert (Shannon), Michael, and Dennis.  Jan was so proud of her boys. She loved and spoiled three generations of the Cook family, from her three sons, to her seven grandchildren, to her two great-grandsons. Jan's love for her family was a constant in her life.
From a young age, Jan had many hobbies.  In 1953 she won $3000 in the Junior Division of the Pillsbury Bakeoff with a recipe called Banana Split Pie.  That win led to many beautiful desserts prepared at family gatherings.  Family favorites were her Chocolate Roll, 22-Minute Cake, and Frozen Strawberry Dessert.  The daughters-in-law were shocked to see that well into adulthood, Jan still sweetened the boys' tea individually and loaded scores of tacos with all the fixings for her sons when they were all home together. She also loved refurbishing miniature dollhouses, crocheting (many) baby blankets for her family and co-workers, and she especially enjoyed crafting Christmas ornaments and stockings for friends and family. Jan rarely complained about anything, but many times she worried, using her favorite sayings, "oh dear" and "my lands". Jan loved to travel, had an enormous recipe collection (always trying new recipes), and enjoyed being with her family.
Jan was an avid walker and tough as nails.  She loved hiking the Sedona cliffs and eventually was dubbed as "The Beast" because (at the age of 84) she climbed up a side of a cliff to prove that no one could leave her behind. She once fell while walking in her neighborhood, broke her hip, got herself up off the asphalt, walked home and later decided she might need some help.  At the office, she was a silent, hard-working giant for Control Data and Wyle Laboratories (NASA).  Jan received the coveted Silver Snoopy Award, Bioastronautics Bravo Individual Award, multiple Bioastronautics Bravo Team Awards, Krug Outstanding Administrative Support Award, multiple Manager's Choice Awards, and multiple NASA Team Awards. Jan's former manager described her as "the glue that holds the laboratory together, and her positive attitude and willingness to put forth the extra effort did not go unnoticed by her co-workers, the customer, or colleagues. Over the years, Jan was recognized for her undying dedication, outstanding performance, hard work and her commitment." Jan's co-workers described her as "stellar, magnificent, inspiring, self-less, dependable, irreplaceable, over-the-top, patient, essential, efficient with a smile, dedicated, and amazing." Jan was all of these things and more. To this day, her co-workers have kept in touch and visited her often.  They were a very important part of her life, so much so that her family begged her to retire for many years before she reluctantly retired at the age of eighty (to great fanfare).  In February, her co-workers helped her celebrate her 87th birthday with a surprise party.
Janet was especially proud of her Swedish ancestry. Her son, Dennis, was once the head coach of the Swedish World Cup team, and she was so proud to talk about her Swedish heritage. Like the rest of the Cook family, Jan loved baseball and attended two World Series, two National Championships and countless regular season games. All three sons carried on her positive traits and became successful in their careers, faithful servants of God, and dedicated to their families and their communities.  Jan was a Christian who had a daily, faithful walk with God, choosing to care and serve others as a demonstration of her faith.  She was a member of the First United Methodist Church in League City where she volunteered at the weekly food truck and clothes distribution for needy families.
Jan will be greatly missed by her family and friends and will always be remembered in our hearts.
Visitation will be held at Crowder Funeral Home, 1645 E. Main Street, League City, Texas on Saturday, June 10, 2023 from 9:30am-10:30am, and funeral services will follow in the same location at 10:30am.
Family-only interment will follow later in the day at Forest Park East Cemetery in Webster, Texas.
Pallbearers will be Kevin Cook, Cooper Cook, Asher Cook, Dawson Cook, Grayson Norris and Jack Buford.
Survivors include her three sons, Shannon and his wife Laura, Michael and his wife Amy, and Dennis and his wife, Tammy.  She is also survived by seven grandchildren, Kevin (wife Niquita), Kelli, Cooper, Callie (husband Grayson Norris), Dawson, Asher and Makenzie (fiancée Jack Buford), two great-grandchildren Alexander and Robert, special family members Stephen and Carla Labay, treasured nieces, nephews and cousins, and Jan's adored co-workers whom she loved so well.  She is preceded in death by her husband, William Robert "Bob" Cook; one grandchild, Mathew Bryan Cook; sister, Betty Winquest Cooper; brother-in-law, Ken Cooper; sister, Margaret Winquest Ganzel; brother-in-law, Dwight Ganzel.
Memorial gifts may be made to League City United Methodist Church, Food Truck Ministry, P.O. Box 815, League City, TX 77573.
God looked around his garden
And found an empty space
Then he looked down upon this earth
And saw a tired face
He put his arms around her
And lifted her to rest
God's garden must be beautiful
He only takes the best