James "Jimmy" Edward Teske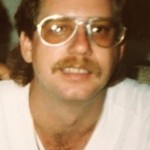 James "Jimmy" Edward Teske, 54, resident of Santa Fe, Texas, passed away April 5, 2014 in Texas City, Texas. He was born September 25, 1959 in France to parents Arthur and Elaine Teske. He graduated from La Marque High School in 1978 and then attended College of the Mainland as an undergraduate. James was a Sr. Mechanical Designer with Inova Geophysical Co. for thirty three years and was an award winning CAD Designer with numerous patents. He had a Cook-off Team 3 B Cookers with the Galveston County Fair and Rodeo. He enjoyed fishing, cooking, motocross, his blue jean shorts and flip flops, and enjoyed being with family and numerous friends.
He was preceded in death by his father, Arthur Teske, grandparents, Hen rietta Overkamp Baker, Henry Ramaker, Edward and Catherine Teske, and cousin, Joshua Dyer.
He is survived by his son, Dustin Teske; ; daughter, Chelsea Teske; girlfriend, Brandy Gibson; mother Elaine Denham and husband Lee; sister, Laurie White and husband Jay; and aunt, Vicki Dyer and husband Buddy; uncle, Ron Ramaker and wife Eileen; nephews, Brian White, Scott White, and David White; cousin, Jennifer Matlage; and many other family members and friends.
A Celebration of his life will be held from 1:00 p.m. to 5:00 p.m. April 26, 2014 at Runge Park, 4622 Peck Ave., Santa Fe, Texas.