James Benton Higgins (Jimmy)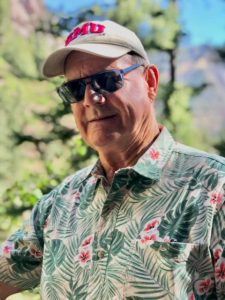 James Benton Higgins (Jimmy), a long-time resident of Alvin, Texas died on Monday, September 19, 2022. He was born on November 8, 1946 in Port Arthur, TX. to the late James and Ioma Higgins of Beaumont, Texas.
Jimmy is survived by his loving wife of 55 years, Sherry Odom Higgins of Alvin, TX., three children, James Darrell Higgins and wife Shelly of Pearland, TX., Jamie Higgins Nunn and husband Jeff of Wimberley, TX., and Susan Higgins Baughman and husband Travis of Rosharon, TX. He is survived by ten grandchildren, Alyssa Barker, Ashlee Moten and husband Titus, Amanda Yeager, Sydney Higgins, Emily Yeager, Ava Baughman, Aidan Baughman, Andrew Baughman, James Higgins, and Lillian Higgins. He is also survived by his loving brother and sister-in-laws and their families.
Jimmy grew up in Beaumont, Texas where he played football at South Park High School. Sherry and Jimmy met in junior high and started dating in high school, they were married 55 years and she was the love of his life. He continued his football career at Southern Methodist University which led to an enthusiasm for all things football. He spent many days watching high school and college football and really had a passion for the game. He and Sherry spent most weekends in the fall traveling to SMU football games or watching it on television, and he was always representing SMU in his apparel.
Jimmy spent most of his career working in sales for SAIA Motor Freight Company. He never met a stranger and genuinely loved to talk to people. He was outgoing to everyone he met and genuinely cared about people, he wanted to know their life story. When he spoke to you he was always honest and humorous, and he loved to tell a great story.
There is nothing more that he enjoyed doing than spending time with his grandkids. He went to every school and sporting event they had and loved to spend time with them, they were the highlight of his life. He was their biggest cheerleader and supporter in every activity they participated in. He also loved to watch and support other kid's activities in the community, many of whom refer to him as "grandpa". Jimmy also enjoyed golfing, fishing, and reading. He was an avid reader and always had a book with him to read, every time you saw him he was updating you on the latest book he had read and was also encouraging you to read them as well. Thanks to the grandkids, he discovered Netflix in the last few years and spent lots of time binge watching his new favorite series. He enjoyed gardening and shared his bounty of vegetables with neighbors, friends, and family.  For many years Jimmy spent time with the Alvin ISD YET Mentoring Program mentoring students, as well as working with Alvin Meals on Wheels delivering meals.
In his honor, there will be a visitation on Saturday, September 24, 2022 from 12:00pm to 1:00pm at the First Methodist Church of Alvin followed by a funeral service at 1:00pm. A reception will follow the service. Interment will follow the reception at Confederate Cemetery in Alvin, Texas.