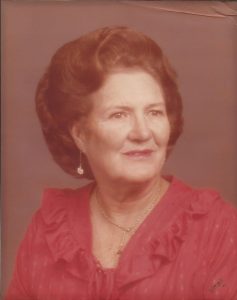 Jackie Reazin, 89, of Texas City passed away peacefully at her home on November 28,2016. She was born on June 2, 1927, in Sweeny, TX.
At 16, Jackie married her 1st husband James Bradshaw and moved to Galveston, where she raised 6 children. When her youngest child, Richard, was in grade school, she moved back to Texas City where she continued to live until her passing.  In the 1970's, she became a member of the Painter's Union – Local 585, where she worked until she retired at the age of 65.  Jackie loved the outdoors and if she had any spare time she could be found fishing, whether it be at the Dike, Beach, or the infamous "Camp".  The camp was the go-to place for all the family and their friends, but it was Jackie's favorite place to be and almost always, with her beloved son, Richard Allen.
Jackie was the 5th daughter of Lemley Meadows and Clara Crumby.  She is preceded in death by her parents and her four sisters Mable Churchill, Dorothy Miller, Theo Clausen, and Eva Wilburn.  Also preceding her in death are her two sons, Charles (Darcy) Bradshaw (1977) and Richard Reazin (2015); her 1st husband (father of 5 children) James Henry Bradshaw and 2nd husband (father of her 6th child) Richard A. Reazin Sr.
Jackie is survived by her oldest son Jimmy Lee (Jimbo) Bradshaw, 3 daughters Mary Ann (Kovacevich) Sealy and husband Kenneth (Hopper), Wilma Kay Denney and husband Roy, and Jackie Lynn Simons.  Jackie has 12 grandchildren, 27 great grandchildren, and 7 great great grandchildren.
A visitation will be on Thursday, December 1, 2016 from 6:00pm – 8:00pm at the James Crowder Funeral Home in La Marque.  A Graveside Service will be at 1:00pm Friday, December 2, 2016 at La Marque City Cemetery with Pastor John Elliot officiating.