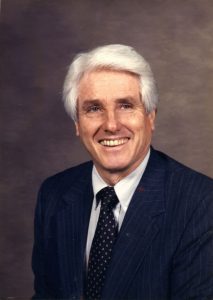 J. Helms Morris, 84, of Dickinson, passed away December 22nd in his home surrounded by his loving family. J. was born October 8, 1936, to Vivian and W.B. Morris in Temple, Texas. He graduated from Temple High School in 1955. J. proudly served his country in the Texas National Guard from 1956 to 1964.  J. married his high school sweetheart, Carolyn, in 1957.  He started his career with General Telephone Company (GTE) as a Draftsman in Robstown, Texas.  From Robstown he was promoted and transferred to League City in 1962, then back to Robstown, Baytown and Weslaco, before returning to League City in 1971 as the GTE Division Manager.  J. was very active in the community and joined the Galveston County Chamber of Commerce in 1971.  He served three different terms as President of the Chamber, was on the Board of Directors, and served as a Good Will Ambassador with the Red Coats until his retirement.  J. received a Lifetime Membership Award from the Chamber in 2012 and a flag was flown at the State Capitol of Texas in his honor.  He also served the community as President of the League City Little League and Chairman of the Dickinson United Way.
In 1975, he resigned his position at GTE to become the Business Manager of League City First Baptist Church to oversee the development of the new property, 50 acres of land the church purchased, at the site where Bay Area Church is now located.  He served in that position until 1978.  That same year, he became a Real Estate Agent and Broker.  Also in 1978, J. founded "The Stepping Stone," a Foster Group Home in Dickinson for teenage girls.  In 1983, he co-founded and served as co-pastor of Cornerstone Baptist Church in League City for three years. He then founded and served as pastor of Bayou Baptist Church in Dickinson from 1986 to 1996.  J. retired in 2019 after 36 years of service with Bayou Realtors.
One of J.'s passions was collecting books.  Seems he had thousands.  He enjoyed playing golf.  He loved being with his big family with Thanksgiving being the highlight of the year when everyone gathered in his home.  He enjoyed traveling, especially to Oklahoma and Kansas to visit his family and grandchildren.  Above all else, he loved the Lord and sharing the gospel.  He went on three mission trips to India and one to the Philippines.  As it says in the Bible, he fought the good fight, finished the race, and kept the faith.
J. was preceded in death by his parents and two grandchildren, Ryan Todd Morris and Joel Caleb Morris. He leaves behind to cherish his memory his beloved wife of 63 years, Carolyn, and brother Neil Morris (Carol); children J. Todd Morris (Lynn), Terry Morris (Cindy), Tami Clark (Jerry), Sheryl Paul, and foster son Hyden Miftari (Deti); grandchildren Brittany Flowers (Travis), Courtney Garcia (Roy), Caleb Morris (Kristen), Daniel Morris (Erin), Bethany Morris, Elijah Morris (Savannah), Anna Foster (Micaiah), Micah Morris (Katie), Andrew Morris, Joshua Morris, Jeremiah Morris, Hosanna Morris, Josiah Morris, Mercy Morris, Hannah Guzman (Diego), Garrett Clark, Danielle Norman, Ajah Norman, Aleigha Paul, Ayla Miftari, and Enya Miftari; great grandchildren Ty Brumbelow, Koby Brumbelow, Sierra Flowers, Ryker Flowers, Connor Flowers, Kylie Garcia, Mia Garcia, Peyton Garcia, Rowdy Morris, Summer Morris, Weston Morris, Crosby Morris, Shiloh Foster, Leo Guzman, and Avery Norman.
A celebration of life will be held Saturday January 9th, visitation at 10:00, service at 11:00 at Bay Area Church, 4800 West Main St., League City.  A burial service will be held at 1:00 pm, January 11th at the Little River/Wilson Valley Cemetery, in Little River, Texas.
Donations may be made to Samaritan's Purse.