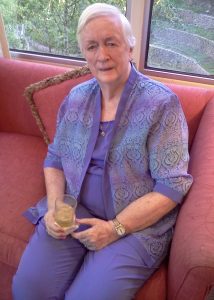 Helen L. Oakley Cornwell, 90, passed away Sunday, April 3, 2022. Helen was born March 4, 1932, in Newport Rhode Island, the only daughter of John B. F. and Helen L. Oakley. She is survived by her husband of 69 years, John F. Cornwell. She was loved by her children; John B. Cornwell (Leslie), Robert E. Cornwell (Marilyn) and Catherine L. Hebert (Tom), grandchildren; Benjamin (Lauren), Katherine, Callahan (Lauren), Travis and great grandchildren; Campbell, Anna, Benjamin and Hank. She was preceded in death by son, Jeffrey B. Cornwell and brothers, Sydney, John, Sidney J, George and Roger Oakley. Helen was a long-time resident of Clear Lake City, having moved with her family to the area in 1965. Helen took great delight in her family and her many friends. She loved to travel and, along with John, traveled extensively around the US and other parts of the world. Helen was active in the Girl Scouts, serving as a leader for several years. She was a member of St. Bernadette Catholic Church, active in the Carmeliters senior group and was an avid bridge player.
Services are as follows: Wake/Visitation (6:00 pm – 8:00 pm) Wednesday, April 6th, Crowder Funeral Home (Webster). Rosary (10:00 am), Funeral Service (10:30 am), April 7th, St. Bernadette Church (Clear Lake). Internment (4:00 pm), April 7th, Forest Park East (League City/Webster).
In lieu of flowers, the family requests that you make a donation to a charity of your choice.